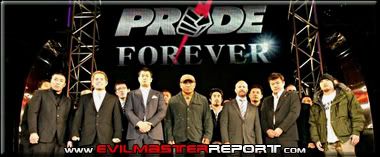 Press Conference: (Video)

Lorenzo J. Fertitta and Frank J. Fertitta, III announced today that a newly formed company, Pride FC Worldwide Holdings, LLC is purchasing the Pride® brand name and related assets from Dream Stage Entertainment, Inc., a Japanese joint stock corporation.

The parties have signed a definitive asset purchase agreement for the new company to acquire the extensive Pride® fighting library, Pride® trademarks, copyrights, fighter contracts and other specified assets.

Mr. Lorenzo Fertitta stated, "I have always been a fan of Pride fighting. I am very excited that this acquisition will allow us to bring MMA fans the best fights in the world, and I look forward to global expansion of the Pride® Brand."

Mr. Nobuyuki Sakakibara, CEO of Dream Stage Entertainment, stated, "I am pleased from the bottom of my heart that the ideal environment is set for PRIDE to continue to be on a more global basis. I believe that the dreams of MMA fans around the world will come true. I am looking forward to the day when the MMA version of the Super Bowl between the two major MMA brands, PRIDE and UFC will be held."

The new company will continue to promote Pride® events in Japan, the United States and other countries throughout the world.