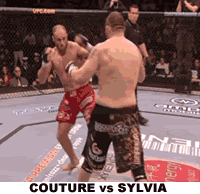 By Don Shapiro

The talk yesterday throughout the Buckeye State of Ohio was UFC 68: The Uprising, where former Professional Wrestler, Randy Couture, defeated favored Tim Sylvia by decision.

Chalk another one up for Ultimate Fighting, which continues to build its impressive fan base and become the fastest growing sport in the world today. For sports bettors, Ultimate Fighting provides an opportunity for underdogs to win (unlike with Professional Wrestling) and without controversial - sometimes tainted -decisions (a la boxing).

Couture, coming off a 12-month retirement, was knocked out in three of his last five fights before calling it quits in February 2006, thus making his a +200 dog at online gambling establishments such as betED.com. By fight time, the payout was closer to $300 on a $100 bet at BetUS.com.

Couture dominated each of the five five-minute rounds, and sent the crowd into a frenzy when he reclaimed the belt that he lost to Ricco Rodriguez in September 2002.

A sold-out crowd of 19,049 - the largest crowd in UFC history - witnessed the first UFC event in Ohio. The nine-fight card was televised live on pay-per-view. Middleweight champion Anderson Silva and Cincinnati Reds stars Ken Griffey Jr. and Adam Dunn were among the celebrities with front-row seats. According to Nationwide Arena officials, the gate was the largest in the eight-year history of the facility, topping even the Rolling Stones.

Ultimate Fighting and Mixed Martial Arts is not just about the UFC however. K-1, the Shooto, Cage Rage, WEC, Strikeforce, Elitexc and BodogFight are all making names for themselves these days. Fighters we spoke to last week while on the set of BodogFight Seasons 4 and 5 taping in Tambor, Costa Rica, told us they felt that K-1 was becoming more popular than Pride. BodogFight has been working closely with K-1 recently.

Sports bettors are eating Ultimate Fighting up with many making out big on the Couture win. As we pointed out, a $100 bet paid out just under $300 at some online gambling sites just prior to Couture vs Sylvia.

The draw for MMA events comes not just from the good fights but their unpredictable nature.

Mike Sloan of Sherdog.com two days before the fight:

"I've gone on record quite a few times since this fight materialized and I'll gladly say it again; Tim Sylvia (Pictures) versus Randy Couture (Pictures) should not be happening. In my eyes, this is a first round slaughter with Couture winding up on the butcher's block. I predict that Sylvia will obliterate the elder statesman of MMA in the first round without breaking a sweat."

And with March Madness just around the corner, betting establishments the likes of BetUS.com were all about UFC 68 wagering.

In fact, betting on Ultimate Fighting itself has become an art form all its own.

Robby Maddux of BetUS.com:

"Handicapping the action in the Octagon should be done exactly like any other sport. While one warrior of the cage may be a striker, known for his heavy hands and knockout power, the other fighter may be a submission artist who taps opponents out with boa constrictor like clutches.

"With a large variety of martial arts in the mix, it's vital to know each competitors style of fighting and how he matches up against the other's particular tactics. This is arguably the single most important area to research when handicapping Ultimate Fighting."