By Mike Chiappetta

Tim Sylvia will make sure Randy Couture has his hands full

There's a man half-a-world away who's watching, waiting, stalking. His hands are pistons of violence, his legs are jackhammers of pain, and from his home in Croatia, he's casting an international shadow on Saturday's heavyweight title matchup between Tim Sylvia and Randy Couture.

Don't, however, bring his name up to the champ.

"Don't even ask it," Sylvia says before you can even get the man's name out. "I'm not going to look past Randy."

When a 6-foot-8, 265-pounder who makes his living doling out violence makes a request, it's a fairly good idea to smile and follow his directive. If Tim Sylvia says he's solely focused on the task at hand, take his word for it.

The matchup between the huge champ and the resilient challenger is a fascinating and intriguing one for several reasons.

First and foremost is the return of Couture. Not only did he choose to come back, but he decided to take on the biggest and baddest kid in the schoolyard.

"Everywhere I go, everybody's talking about Tim and Randy," said UFC President Dana White. "Can Randy come back from retirement? Can Randy take Tim down? Can he get inside his reach? A lot of so-called experts are saying Tim hits too hard and his reach is too big, or that Randy has a hard time with bigger guys. But I think that's what makes a great fight, how many different opinions there are. Everyone's buzzing about it."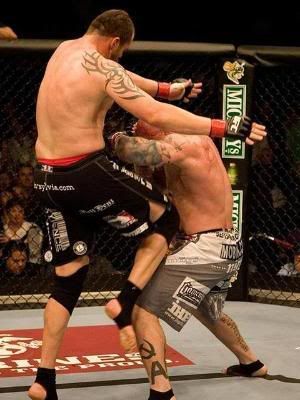 There's also an interesting back-story between the fighters. When Sylvia was a UFC heavyweight title hopeful several years ago, he trained with Couture, even staying in his house. So there is a familiarity with each other, even a friendship that will have to be wiped away from their minds when they enter the octagon.

But the mind games have been part of the lead-up to the fight, as the veteran Couture parroted the critiques of many fight fans who believe that in Sylvia's most recent fights, he hasn't shown a killer instinct, riding his long jab to conservative five-round decision victories. It's a seed Couture planted with the hopes that it will grow into full-fledged doubt. In a sport where a spectacular performance is almost as important victory itself, there remains a possibility that Sylvia could become overaggressive, deviate from his game plan and make a mistake that costs him the belt.

Even this week, with the fight so close, Couture reiterated his belief in Sylvia's conservative plan.

"I definitely feel that way," Couture said. "Especially in the Monson fight. He had Jeff in trouble on the ground. At the point, he could've stepped up and found a way to finish that fight, and be aggressive and show the same passion that put him in that belt in the first place. And I didn't see that… I thought Tim could've finished that fight."

Sylvia, meanwhile, was angered by the comments, especially since they came from someone he considers a friend. Though he restated his respect for the legend, he said Couture's comments helped him re-focus and re-energize.

"It definitely affected how I approached this fight," Sylvia says of Couture's comments. "Randy definitely lit a fire under my ---. We consider ourselves pretty good friends and the criticisms he had to say about me really burned me. I kind of take it a little personal, and I'm going out there to prove a point. And the point is to knock him out."

The fight also serves to address a minor problem for the UFC, and that is the popularity of the champ. Though Sylvia is a two-time UFC heavyweight champion and riding a six-fight winning dating back to May 2005, he seems to take on a little more criticism than other titlists. Even though he's had five KO wins among his eight UFC victories, he's won decisions in three of his last four victories. Some might say he cruised to those decision rather than fought to them.

"I think that in the fight game, it can go either way for you," White said. "People either love or hate you, but as long as they're talking about you, that's all that matters.

"I think this is a big, big fight for Tim," he continued. "Randy is one of the most popular champions we've ever had, and I think Tim going out and fighting the good fight and beating Randy would be big for him."

Sylvia is more pointed, saying, "I think this fight has the makings of me being a more popular fighter. If everything goes as planned and I beat Randy, I think I'm going to win over a lot of fans."

Defeating Couture wouldn't exactly be a coronation for Sylvia, but it would probably send more respect his way. Let's face it: if you take a look at them, you see a middle-aged ring veteran giving away six inches, 30 pounds and 12 years, and it's hard to believe he can win. But then again, this 43-year-old is no ordinary middle-ager. Couture's bucked the odds before, most memorably when he stunned Chuck Liddell in June 2003, a result hat remains Liddell's last defeat. Couture has been training with oversized heavyweights like Frank Mir and Wes Sims, learning how best to attack them and deal with their reach and bulk.

"What concerns me most about Randy? His will to win," Sylvia said. "Vitor Belfort, Randy took him down and smashed him. Chuck Liddell, he did the same thing. Randy always finds a way to win. He's an awesome competitor and his wrestling is off the charts, so I'm concerned about his will to win and his wrestling."

Ever the champion, he's confident in his approach, his game plan and the result that will follow.

So confident that after forty minutes of questioning, he feels good enough to address the shadow, the man who's waiting in the wings to challenge for the belt.

"If you're talking about Mirko Cro Cop, I see holes in his game, I think he's beatable, but Randy's first," he says. "If everything goes right and I beat Randy, I definitely need to prove myself to the rest of the world. [Unofficial internet rankings] have Cro Cop ranked No. 2 and me No. 5, so me going out there and knocking him out is going to bump me up."

"Those ranking are BS anyway," White interjected. "Just a bunch of internet knuckleheads."

"It still irritates me," Sylvia said. "But maybe someday we can have a fight with [current PRIDE champion] Fedor [Emelianenko] and I."

But for now, this fight is about two men, once training partners, still friends, who must put aside their pasts at the octagon door for one common goal. Couture has been the ultimate underdog throughout his career, which seems perfect in this match. To get back to the top, he literally has to beat a giant.

(Source)