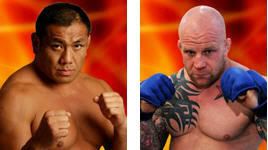 DSE / PRIDE FC held a press conference at Tokyo's Roppongi Hills Arena on Tuesday, March 27th, to present PRIDE FC under the new ownership of Lorenzo Fertitta. DSE President and CEO Nobuyuki Sakakibara was on hand to publicly state that he will step down from his position and hand over ownership of the company to Mr. Fertitta, who will henceforth continue PRIDE operations, but under the banner of a new parent company, Pride Worldwide.

In addition, Kazuyuki Fujita vs. Jeff Monson was added to the upcoming PRIDE.34 "KAMIKAZE," foreshadowing what will surely lead to a series of future PRIDE VS. UFC matches.

Following comments by Fertitta, Sakakibara, and Executive Director Nobuhiko Takada, the President of the UFC, Dana White, was introduced to the crowd.

"I'll have to disagree with something that Mr. Sakakibara said earlier. He was talking about all the other MMA organizations that are coming up and climbing up the ladder. I laugh at them. I think they're all a joke. The only two companies in this world that matter are the UFC and PRIDE," White commented, which was received to a huge cheer of approval from the attending Japanese fans.

White continued with talks of his majestic dream: "Finally, after 7 years, we're going to be able to answer all the questions we've been waiting to answer. All the challenges we've been waiting to make happen are now going to happen. We get to see great fights like Fedor vs. Couture, Shogun vs. Liddell, Gomi vs. St. Pierre, Henderson vs. Anderson [Silva], Josh Barnett vs. Arlovski. Whatever the match-ups might be, we finally now get to set the best matches ever. We as an organization, PRIDE as an organization, and you the fans, as well as the fighters, all benefit to find out who really is the best fighter in the world."

Never one to miss a chance to fire the first salvo, White added "make no mistake about it, I don't care if Lorenzo bought the UFC or PRIDE. The UFC is coming in to kick your ass!"

Following White's comments, a PRIDE.34 promo video, announcing Fujita vs. Monson as a newly added match, played. Based on Fujita's longstanding tenure as a PRIDE fighter and Monson's recent string of impressive fights in the UFC, this match is being presented as a prelude to an inevitable PRIDE vs. UFC series. Monson, aka "The Snowman," appeared on stage to the UFC theme song, while Fujita was introduced to the crowd against the PRIDE theme song. The two stood face to face in a traditional fighters' standoff.

Monson commented, "on April 8th, I'm going to show that the UFC does have the best fighters when I beat Fujita."

Fujita vowed, "our war against the UFC begins at PRIDE.34, and as a representative of PRIDE, I declare that I will take down the UFC!" At the encouragement of the already-invigorated fans, Fujita then confronted promoter White with an intense stare down and the challenge "are you ready?"

In closing the press conference, PRIDE Executive Director Nobuhiko Takada remarked, "PRIDE will remain as it has been. We hope to continue to refine PRIDE in cooperation with the staff, the fighters, and the fans, so that PRIDE maintains its place as the world's greatest fight stage. Your enthusiasm inspires us, so please continue to give us your fervent support."