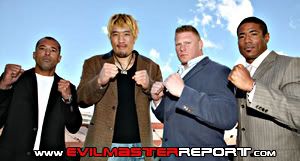 By Steven Marrocco

Tuesday, March 27 -- Los Angeles: As an unseasonably windy hum resonated in the microphones, cascading down the enormous rows of empty seats in Los Angeles Memorial Coliseum, the Olympic icon hosted a significant announcement in the world of MMA.

After signing on to collaborate with Strikeforce on June 22nd, the minds behind Pro Elite will host an even larger undertaking, announcing a strategic partnership with Japanese promoters Fighting Entertainment Group for a June 2nd show at the Coliseum.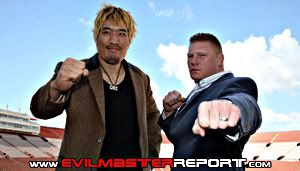 As the purveyor of K-1 Hero's, the MMA wing of the popular kickboxing organization will make its first incursion into the U.S. market. Japanese digital information magnates Softbank will provide the financial support for the massive undertaking.

"There will be 100,000 audience [members] that day and it will be a historic event," FEG president Sadaharu Tanikawa stated. "Our target will not just be hardcore fans, but all sports fans."

Pro Elite CEO Doug DeLuca also announced the involvement of several prominent MMA organizations on the world scene, including BodogFight, Strikeforce, Cage Rage, and Spirit MC, who will provide fighters and footage for the event. It remained to be determined whether their participation would include logistical or promotional support, but DeLuca once again cited his ambitions to create world champions.

"It's a spirit of cooperation," DeLuca told reporters. "It's a way to help other people succeed in the sport. It does not just need to be one."

The June 2nd show will take place in two segments. A one-hour Showtime presentation will kick off the evening, followed by a pay per view entitled Pro-Elite presents: Dynamite USA! The one-hour special will serve as a teaser for the Pay Per View with three undercard fights, featuring Gina Carano, Jake Shields, and Antonio Silva.

Occupying at last half of the stadium will be the 7'2", 355lb K-1 World Champ Hong Man Choi, who will take on former WWE wrestler Brock Lesnar in the night's main event. MMA legend Royce Gracie will return to competition after his loss to Matt Hughes at UFC 60, and former NFL wide receiver Johnnie Morton will make his MMA debut.

Despite K-1 star Bob Sapp's much publicized contractual problems with the organization, President Tanikawa stated that they considered him under contract and offered him a slot in the show.

"If he is available and interested to fight, we'd like to offer him a fight," Tanikawa said.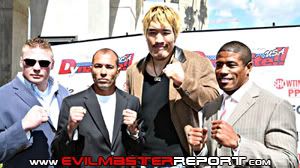 With the ink still drying on the Fertittas' acquisition of Pride Fighting Championships, the issue of mergers was not far from the FEG president's mind.

"I have a personal alliance with Pride, and we'd been doing some matchmaking for them at the early stage," Tanikawa said. "It is a pretty big issue. It is a very powerful organization. Therefore, this event will work positive to us. We have big power as well as they do, so we will do a lot of collaboration for the development of mixed martial arts events."

The roots of K-1's foray into the US trace back to Rumble World CEO Jay Dee Penn and Elite COO Billy Kelly. As founding members of the Elite XC production team, their relationship with K-1 served as the bridge for communication between the two promotions.

"It came to our attention that they wanted to come to the U.S. and do the largest mixed martial arts event ever," CEO DeLuca elaborated. "At the end of it, we decided that it would make a lot of sense for us to do this together. We said we'd gladly lend whatever resources we could to make it work."

The record for live attendance at an MMA event in the U.S. was recently set by UFC 68, which drew 19,079 fans to the Nationwide Arena in Columbus, Ohio. As to the alliance's gameplan for filling the seats, DeLuca acknowledged they face an uphill road.

"We plan on working very hard to do that," DeLuca said with a smile. "I will defer to my friends at FEG to answer the question. We are working with many different organizations. We know what we are up against."

President Tanikawa quickly chimed in. "We have support from the Korean community which is about 800,000 in Los Angeles," he said. "And 400,000 in the Japanese community."

It is unclear whether the promotion's resources will lean towards revenue from live gate attendance or pay per view buys, but June 2nd will mark the largest collaboration of organizations in MMA's year of explosive growth.