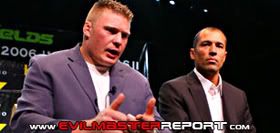 LOS ANGELES (March 27, 2007) -- FEG (Fighting Entertainment Group), ProElite and SHOWTIME Networks Tuesday formally announced a gigantic mixed martial arts fight card Saturday, June 2, 2007, at the Los Angeles Memorial Coliseum.

The initial three bouts of the live card will be shown on SHOWTIME during a one-hour telecast that begins at 9 p.m. ET/6 p.m. PT. On Feb. 10, 2007, SHOWTIME aired the first-ever MMA fight card carried live on premium television.

The pay-per-view portion of the June 2 mega event will feature up to six bouts and immediately follow on SHOWTIME Pay Per View (10 p.m. ET/7 p.m. PT).

The sensational evening's main event will feature a tremendous matchup between 7-foot-2 South Korean giant Hong Man Choi and hugely popular former pro and NCAA wrestling champion Brock Lesnar.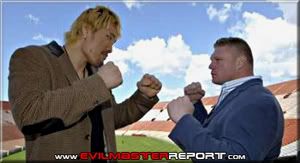 Choi, Lesnar, legendary mixed martial arts pioneer and Hall of Famer, Royce Gracie, and former University of Southern California and NFL star, Johnnie Morton, who is making his MMA debut, attended Tuesday's opening press conference at the Coliseum.

For more information, please visit ProElite.com.

HONG MAN CHOI

"This is my first MMA fight in the United States and I am very excited about it. I feel privileged to be on this show.

"The Coliseum is a big place, just like me. I have studied my opponent and know he is a very good fighter. I plan to give my best. I hope I can live up to the expectations.''

BROCK LESNAR

"Pro wrestling ran its course and I wanted to do something else. I tried pro football and visited the Minnesota Vikings camp in 2004. When that didn't pan out and I saw how MMA was exploding, I said to myself, 'hey, there's something here for you.'

"This is my first MMA event and I am very excited. I am happy to be part of this sport. I feel fortunate to have my health and I am ready to go. I have a good feeling about this.

"My opponent is obviously very, very large. But size doesn't matter. It just gives me a huge target to hit.

"I think they are making a big mistake by fighting me. Choi has more experience, but when it comes time for me to put his butt on the mat, he will be like a fish out of water.

"I want to thank everyone involved. This is a heck of an opportunity and a chance to get back to my amateur wrestling roots. I've been training a year and feel very comfortable.

"This is going to be a great event and I can't wait for when it's time for lights, camera and action. I am looking to make a huge impact on the MMA today.''

ROYCE GRACIE

"I am pleased to be fighting in California again. I live in Torrance (Calif.) so this is like a home game for me. I don't get too many of those.

"I am very excited to be part of an MMA event that will be the biggest and largest ever in American history.

"I have fought in Japan in front of 95,000 fans, so I am used to huge crowds. But this is going to be a fantastic and memorable event. I hope the fans who can't be at the Coliseum will watch the pay-per-view. It will be very exciting.''

JOHNNIE MORTON

"This is my first pro fight. No, I don't know of many other NFL players doing this. But I got beat up all those years playing football so I decided to give this a try.

"I stay in shape year round. So in the off-seasons, I would train in kick-boxing gyms and learn new moves. I am going into this totally blind.

"The big thing is, this is a new challenge in a sport I have never done before. My whole life, I played team sports. This is a chance to do an individual one.

"This sport is nuts. But football was nuts, too. At least in football, you do get hit sometimes, too.

"I feel my strengths are heart, courage, strength and competitiveness. I feel extremely strong in my upper body and on my feet.

"I've watched MMA from the very start and always found it interesting. It was my favorite sport to watch. Now, I am going to be in the biggest MMA event in American history. Sure, I will be a little nervous. But if you are not nervous, you should not be here.

"I am proud to be involved in this big event. I am looking forward to making a mark.''

(Source)