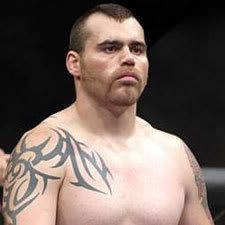 By Greg Savage

What do you get when you win the UFC heavyweight title (not once, but twice), defend that belt against all comers, care about holding the title more than the rest of the company's champions combined, and sport a professional record of 23-2-0?

Well if you are Tim Sylvia it may not be everything you might think it would be.

Despite all his accomplishments and accolades, Sylvia still has not won over the finicky fans of MMA. Maybe it's the gargantuan chip he's been lugging around for the past couple years, the bird he flipped them after his last fight, or even the sense of entitlement that seeps into nearly every interview he does. Whatever the reason, Sylvia has failed to connect with fans of the booming sport.

While Rich Franklin and Matt Hughes have seen their popularity skyrocket, Sylvia's has lingered behind. That is something "The Maine-iac" is hoping to rectify come Saturday night in Columbus, Ohio.

Sylvia, 30, will take on the 43-year-old Randy Couture, a legendary ground-and-pounder who's held belts in the UFC heavyweight and light heavyweight divisions. This is a fight that Sylvia thinks will put him over with the fans that have thus far failed to jump on his bandwagon.

"Well I just see, you know, it's gonna catapult me into the next level," Sylvia explained. "I think. That's what I'm planning on, hoping for."

When questioned about the similarity of this bout with Franklin's fight with Ken Shamrock — who, like Couture, was an aging star — Sylvia remarked that he sees this as the same kind of opening for him.

"I think the UFC kind of thinks that as well, and that's why they are giving me this opportunity," declared the champion.

As for Couture, Sylvia made it clear he is no pushover. While the six-foot-eight heavyweight insists he will find his mark with his powerful right hand during the scheduled five-rounder, he is obviously aware of the danger a fighter like Couture brings into the Octagon.

"I think it's going to potentially be a closer fight than people give credit for, absolutely," a wary Sylvia stated. "It's Randy Couture. You can never count the guy out and whenever people do he always wins."

As is the case in quite a few fights, there will be a battle of fighting philosophies. While the 265-pound champ will try to keep the bout in the stand-up realm — where he has a decided reach advantage over the six-two, 225-pound Couture — "The Natural" will try to neutralize the height and weigh disparity by taking the fight to the mat, where he can use his wrestling ability to control the match.

Sylvia detailed the game plans for both him and his foe claiming.

"I think it's pretty cut and dry for both of us," he said. "[Couture] has to get the fight to the ground to even stand a chance, and I'm gonna try to keep the fight standing up.

"I just think that for Randy to even stand a chance in this fight, I know Randy is going to go out there and he's going to try to out-wrestle me and try to take me down. There's no way in hell he can stand with me. I think I can submit him on the ground to be honest with you."

You might ask why big Tim is so sure of himself?

Well, when he and Couture step into the Octagon Saturday night it won't be the first time they have shared a cage. Sylvia traveled to Oregon to help prepare Couture, then champ, for his heavyweight title defense against Ricco Rodriguez (Couture was stopped in that fight in September of 2002), and again when "The Natural" prepared to fight Andrei Arlovski before the Belarusian bowed out due to a broken hand.

Those close to the Couture camp have brought up these training sessions — and it has not been flattering for Sylvia by most accounts.

The champion sees it differently.

"When I've always trained with Randy I've always taken it easy on him," Sylvia said. "I've never really unleashed what I could have done to him just cause I have so much respect for him, and you know, I love the guy. He's been a mentor to me. But there's gonna be no love in the cage. That's for sure."

When pressed for an answer on why he is a different fighter than the guy who headed out to Oregon to be a sparring partner for Couture, Sylvia chimed in, "I've improved a lot in three years, where I don't think he's improved at all."

While he stopped short of guaranteeing a knockout victory, Sylvia did compare himself to Chuck Liddell in the sense that he will have five rounds if necessary to land the one big bomb that could spoil Couture's coming-out-of-retirement party.

If he is successful it seems likely Sylvia's next challenger will be Croatian import Mirko Filipovic. While many pundits see the powerful striker as the No. 2 heavyweight in the world behind only Fedor Emelianenko, Sylvia did not seem impressed. Reluctant to get ahead of himself, the Iowa-based champ still made it clear that he relishes the chance to prove himself against the world's best.

"I don't want to look past anyone because Randy is a stud, but I think I match up well with Mirko "Cro Cop," said Sylvia.

After watching Filipovic's UFC debut against an over-matched Eddie Sanchez last month, the champ boldly stated: "I think he's beatable, I saw some weaknesses."

As if "Cro Cop" isn't enough for Sylvia to bite off, he went on to make it clear that he wants to fight they guy everyone says is the best, PRIDE heavyweight champion Emelianenko. Along with fellow PRIDE fighters Josh Barnett and Antonio Rodrigo Nogueira, Fedor and "Cro Cop" are consistently ranked ahead of the UFC champ and he is not pleased about that.

"I think I'm the best heavyweight in the world. And I think on any given day I can beat any one of those guys," implored Sylvia. "I wanna fight Fedor the most because everyone says he is so much better than me."

Before any of those dream match-ups can come true, Sylvia has to get by one of the all-time greats of the sport in Randy Couture. By late Saturday night we'll know if he got past the legend. It may take a bit longer to know if in doing so he endeared himself to the sport's rabid fan base, as well.

One fight does not make a fighter, but if Sylvia has his way a long string of victories over the world's best will cement his name among the sports greats.

That would be something even the most adamant Tim Sylvia detractors could not ignore.