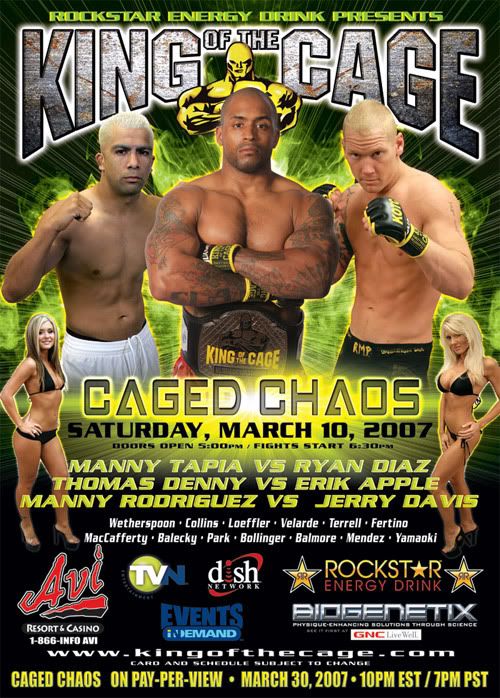 By FCF Staff

Manny Tapia has confirmed to FCF that he will not be defending his King of the Cage Flyweight Championship (135lbs.) against Ryan Diaz this weekend, due to the fact it appears he will be signing with World Extreme Cagefighting. According to Tapia, his imminent signing with the WEC will allow him to still compete for KOTC, but due to the fact he will be fighting primarily for the Zuffa owned promotion, he will be unable to carry on his responsibilities as KOTC flyweight champion.

"It was kinda getting bad, lawyers were coming into it, but we finally came to an agreement," says Tapia in regards to his contract negotiations and his wish to sign with the WEC. "They were just offering so much on the table; they seem to think I'm a marketable guy. It looks like it's going to be a 4 fight deal and I might be fighting Antonio Banuelos in May or June. I'll still fight for KOTC a couple times a year, but I told them to strip me of my title because I'll be fighting mostly for the WEC. Terry [Trebilcock] and everybody at KOTC have treated me so well, so I'm glad we worked something out."

KOTC Canada's Bantamweight Champion Diaz (12-10) will now face Ed Newalu (12-9-1), and is looking forward to the title fight despite the change in opponent. KOTC "Chaos" is set to take place at the Avi Casino, in Laughlin, Nevada , Saturday, March 10th.

"Of course I'm disappointed I'm not fighting Manny." Diaz tells FCF. "I'm still happy that I'm fighting for the title, I guess Manny got a deal somewhere else, that's just the way it goes sometimes. I'm hoping that I'll be the next KOTC world champion."

Newalu has faced Tapia twice before, losing both fights by unanimous decision at KOTC 63 and KOTC 41 respectively. The Hawaiian fighter is undefeated in his last three fights, and most recently he defeated David Moreno at Extreme Wars Battlegrounds 5 in October. Over the year that intervened between his two fights with Tapia from September, 2004, until December, 2005, Newalu won 6 fights in a row. Diaz is keenly aware of Newalu's abilities, and knows he's in for a challenge Saturday night.

"He's going to be a tough fight," Diaz says. "He's got a really good overhand right and he's a good wrestler. I saw him fight when I was fighting in Hawaii once, so he's probably seen me as well and knows to expect a real tough fight from me. I also saw one of his fights with Manny and it was really close, he was giving Manny a lot of trouble."

In Diaz's last fight he lost by unanimous decision to Nam Phan at KOTC "Rapid Fire" last August, the Canadian fighter went up to 155 lbs from 145 for that bout, a division above where he has typically fought at throughout his seven-year career. Over his last ten fights, Diaz has gone 7-3, with his only losses coming to Mark Hominick twice, and the aforementioned Phan.