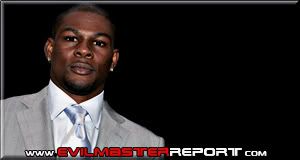 LITTLE ROCK, Ark. -- Jermain Taylor's promoter has heard enough criticism of the middleweight champion's choice of opponents.

Taylor will put his title on the line May 19 against Cory Spinks in Memphis, Tenn. It's Taylor's second straight fight against someone from a smaller weight class. Spinks, the son of former heavyweight champion Leon Spinks, is the IBF junior middleweight champion.

"This fight was offered to a large number of middleweights who turned it down," said Lou DiBella, Taylor's promoter.

Organizers held a teleconference Thursday for the fight, which will be televised by HBO. Included on the call was Don King, Spinks' promoter.

"I've never met Don King," Taylor said. "Looking forward to meeting him."

King called Taylor "one of the best out there."

Taylor, a Little Rock native, beat former junior middleweight champion Kassim Ouma in a December decision. That fight was in North Little Rock.

Before that, though, Taylor (26-0-1) proved he was willing and able to fight the middleweight division's top names. He became the middleweight champion in July 2005 by beating Bernard Hopkins in Las Vegas, then outpointed Hopkins there again that December. Taylor escaped with a draw against Winky Wright in June in Memphis.

Spinks is 36-3.

"I want to fight the best," Spinks said. "And Jermain is the best."

Spinks outpointed Rodney Jones last month.