By Ben Fowlkes

There was very little pomp and circumstance when Bas Rutten stepped down as head coach of the Anacondas on Saturday night. A brief ceremony backstage that played on the Forum's big screens, a few words from Bas to new head coach Shawn Tompkins, and that was all.

With the whole thing ending so quickly – and with the Anacondas rolling to a 5-0 victory anyway – the casual observer might have thought it a meaningless changing of the guard. But after talking to the L.A. Anacondas after the fight, it clearly held plenty of significance for them.

"I love Bas," said welterweight Jay Hieron. "I watched him even before I started fighting and I saw this bald-headed guy doing splits in the ring."

Hieron echoed the sentiment of his teammates on the gregarious Rutten, but also said that he thought the strength of the team was greater than simply the coach.

"We're one unit. You see how we are out there," Hieron said. "We're a family. It's incredible. We're from all over, but it's a family."

If there is one man the Anacondas have to thank for that, it's Rutten. Initially, his squad was a mismatched group that didn't train together and didn't really know each other. Now they appear to be a cohesive unit, largely thanks to the efforts of Rutten and new head coach Tompkins.

"They changed my mental game completely," said heavyweight Krzysztof Soszynski. "They're why I'm the fighter I am today."

Tompkins admitted to some jitters when he initially took over as head coach, but said he felt his team was strong enough that he had little to worry about.

"I was scared as hell. I've known Bas for eight years. He's my mentor. I wanted to prove myself to him."

With this sweep of the Razorclaws, it's hard to say Tompkins did anything less than expected. The win puts the Anacondas firmly in first place, with only one team contest left in the regular season.

If you weren't in L.A. for the event on Saturday night, here's what else you missed…

Razorclaws Fallout?

Thus far in his IFL career, San Jose Razorclaws coach Frank Shamrock has yet to enter more than one team match with the same cast of fighters. Underperformers have been swiftly let go and replacements found, and when those replacements under perform he's found replacements for the replacements.

So what's going to happen now that the team suffered their worst loss to date? Will he get rid of everyone and start over, the way Ken Yasuda did with his Sabres after the 2006 season?

"They're all fired," Shamrock joked at the press conference, eliciting a nervous laugh from the room. "No, this is the team we want. We just had a bad night and we got our asses kicked."

Shamrock went on to say that he felt his team was physically competent and able, but the mental side of things was holding them back.

"There's a little bit of bad chi on our team right now," he said. "I've got to get these guys mentally ready to fight."

Now that the Razorclaws are 0-2, any hope of them making the playoffs has faded away. Shamrock and the 'Claws seem to realize that, but they say they're focusing on the bigger picture.

"I guarantee that Monday we'll be in there working. It may not be this season, but next season we're going to crush everybody."

It's quite a claim, but would we expect anything less from Shamrock?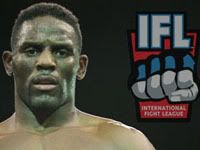 Condors-Sabres Answers Some Big Questions

The So. Cal. Condors entered their match with the Sabres full of hope and energy, but it wasn't enough against the more experienced Tokyo team. Savant Young, Antonio McKee, and Vladimir Matyushenko were all too much for their Condors opponents, and much of the edge seem to come from time spent in the ring.

But what is really interesting about the undefeated Sabres is how much they continue to stress the importance of team unity. Coach Ken Yasuda said that while his team might not have many Tokyo-natives, as their name would suggest, they have a definite Japanese influence.

"Every time these guys, like Antonio (McKee) say it's not for them, it's for the team – that almost makes me want to cry," Yasuda said.

There weren't many who expected the Sabres to be a force this season, but at 2-0 with this roster and this type of cohesion, they seem to be a force to be reckoned with.

The Condors also hoped for big things, but it seems they might be a little too green to get there just yet. Light heavyweight Justin Levens fought a more intelligent fight than usual, but a world-class grappler like Vladimir Matyushenko is smart enough to force opponents into playing his game.

Middleweight Jeremy Williams again rendered someone unconscious with his triangle choke, making him two for two with that move in the IFL, though he was unwilling to brag about it after the team loss.

"I don't know, I guess guys don't want to tap," he said.

But perhaps the biggest surprise was heavyweight Antoine Jaoude's comeback win over Wayne Cole. After being dominated by the athletic Cole in round one, Jaoude altered his game plan to set up a crushing right hand that ended the bout in one blow. It's perhaps even more surprising when you consider Jaoude is a wrestler by trade, but if he continues to improve his overall game so rapidly, he could become a major contender in the heavyweight division.

As for the Condors, it's back to the drawing board to prepare for the Razorclaws on May 19th, a team that's fighting purely for pride.