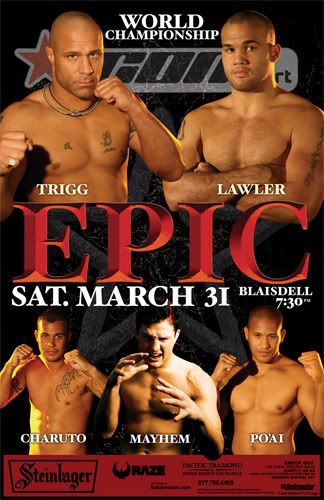 ICON SPORT: EPIC
SAT. MARCH 31st
BLAISDELL ARENA, HONOLULU, HAWAII

WORLD CHAMPIONSHIP MIDDLEWEIGHT MAIN EVENT

Frank Twinkle Toes Trigg (J-Sect/R1, Las Vegas) vs. Ruthless Robbie Lawler (Miletich FS, Iowa)
Trigg makes his first title defense after dismantling Mayhem Miller in December and then destroying top-ranked Kazuo Misaki in February. Lawler is coming off two devastating knockout wins. Leather will fly. This will be an unforgettable main event.

MAIN CARD

Jason Mayhem Miller (Team Quest, CA. ) vs. Hector Urbina (Team Wolfpack, Ohio)
Mayhem has the fire in his belly after losing the Icon title to Trigg. But Urbina, at 8-2, is no easy challenge. Can Mayhem get back to his winning ways?

Charuto Verissimo (BJ Penn MMA/HMC) vs. Lars Haven (Team Wolfpack, Ohio)
Once a top ranked welterweight, Charuto continues his rise back to the top now in Icon's middleweight division. Haven is an undefeated young warrior who sees that a win over Charuto would launch him into the upper echelon of MMA.

Po'ai Suganuma (BJ Penn MMA) vs. Nathan Carey (Team Wolfpack, Ohio)
Hilo-born Po'ai is an intelligent, articulate, and charming college graduate with a degree in computer science…AND he's an absolute MMA wrecking machine in the 205lb Light Heavyweight class. He studied judo as a child and matured into a talented grappler, winning the State wrestling championship for Waiakea High School. He's been fighting MMA in Japan since 2005, so most of Hawaii has never heard of him. His first test in Icon is a tough one as he takes on 6-1 Nathan Carey.

STATE LIGHTWEIGHT CHAMPIONSHIP
Marshall Harvest (Animal House) vs. Justin Bucholz (Bulls Pen)
It's Ewa Beach versus Town in one of the most anticipated lightweight match-ups in years. Harvest, Ewa Beach's talented grappler, was a student of world renowned jiu-jitsu master Barret Yoshida. Bucholz is an amazing athlete who is skilled at every aspect of the MMA game.

UNDER CARD

Kala Kolohe Hose (Hard Knocks) vs. Ron Verdadero (Jesus Is Lord)
No Icon fighter has shown as much improvement over the last year as Waianae warrior Hose, literally going from wild brawler to skilled MMA assassin. Like Hose, Verdadero has taken his game to the next level, showing off improved athleticism and devastating ground-and-pound in his last fight.

Kimo Woelfel (Eastsidaz) vs. Dereck Keasley (Team Wolfpack, Ohio)
Waimanalo brawler Woelfel will be tested by slugger Keasley.

PJ Dean (O2 Martial Arts Academy) vs. Derek Stadler (HMC)
Waianae's own KO artist, PJ Dean, is considered by most fight critics (and all opponents) to have some of the heaviest hands in all of Hawaii. His first Icon test is against Stadler, who has shown that he knows how to submit strikers via his solid jiu-jitsu foundation.

Thomas Ferguson (Team Devastation) vs. Carvin Mafatau (Team Wolfpack, Ohio)
Waianae's Ferguson has one-punch knockout power. So does his opponent Mafatau. Buckle up fight fans, these two heavyweights are going to stand and bang.

Devon Damo (Animal House) vs. Dwayne Haney (Bulls Pen)
Damo's last Icon appearance was a dominating kickboxing win. Haney just won his Icon debut in February via rear naked choke submission. This bout will be fast and fun.

Jay Bolos (Animal House) vs. Ryan Lee (Bulls Pen)
Bolos is a champion kickboxer converted to MMA fighter. Ryan Lee is a seasoned MMA soldier who has fought every one who's anyone in the 135lb division. Guaranteed to be a stand-up war.

Isaiah Cobb-Adams (Animal House) vs. Vinny Delos Santos (Team Soljah)
Its Ewa Beach versus Waianae as well-rounded Cobb-Adams meets kickboxer-turned-MMA-fighter Delos Santos.