By Christopher Costigan

It was a huge pay day for both the UFC and winner Randy Couture. The UFC walked off with $3 million while Couture earned only a small piece of that, but a nice $250,000 nonetheless. His opponent, Tim Sylvia came away with $100,000.

The more popular Mixed Martial Arts gets, the higher the pay scales, many experts predict.

Already, another entry into this genre, BodogFight, which receives heavy coverage from Sports911.com, claims to pay its fighters more than any other organization within the MMA sector. As such they have been able to pry some top fighters away from other franchises, most notably PRIDE out of Japan.

Fans of the fastest growing sports in the world do not necessarily like the idea of BodogFight waving wads of bills in front of just any player. Many have expressed that the big bucks should only be reserved for the marquee fighters such as Chuck Liddell and certainly Randy Couture.

But with the UFC raking in $3 million at the gate per event (assuming the trend continues), there is certainly plenty of money to go around. BodogFight - like a budget airline - will help keep salaries competitive.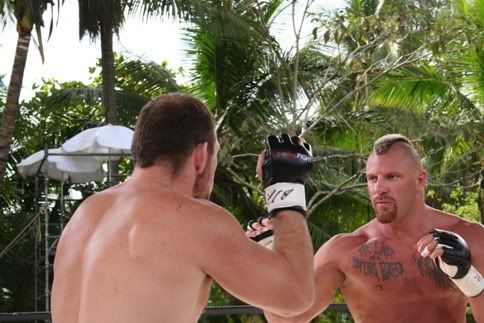 BodogFight is already making inroads in the world of MMA, now seen in more households than any other MMA-related regularly scheduled program (fighters in Playa Tambor, CR)

Ivan Trembow of MMAWeekly.com pointed out over a year ago that "many people have been waiting to see the hugely increased revenue and popularity of the sport pay off for the fighters in the form of increased salaries.

"Over the summer of 2005, this concern grew as more shows took place. As a general trend, the salaries were still not increasing, even with the extremely lucrative contract that Zuffa scored for The Ultimate Fighter 2."

Trembow expressed concern about this and proposed a new minimum salary for UFC fighters (an amount that would still be fairly low: $5,000 to fight and an additional $5,000 to win). According to Trembow, the possibility still existed that Zuffa was just being a little bit slow in the process of making its fighters' salaries more proportionate to the company's own huge increases in revenue. But by year's end, the fighters' salaries had still not increased.

That is probably about to change since the UFC will no longer be able to ignore BodogFight's billionaire owner Calvin Ayre's willingness to pay big bucks to his fighters.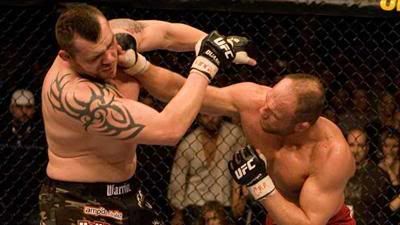 MMA, meanwhile, will do more to make money just for itself and for its fighters. With the overwhelming financial success of UFC 68 (and its 19,000 strong ticket buyers), the UFC has already suggested that more events will take place in Ohio, which in turn will help fuel the economy there.

For fighter Rich Franklin, he never dreamt he'd be fighting in Ohio.

"It's funny because once I started fighting in the UFC, a lot of my friends and family asked when I would be fighting in Ohio again. I always said probably never," Franklin told the Advocate.

"I never dreamed that they would bring this to Ohio. The amazing thing about it is tickets basically sold out in day three, which just goes to show you this thing is national. It's exciting for sure."

According to The Advocate, the previous attendance record at a UFC event was 14,765 for a show May 2006 in Los Angeles, and Saturday's show also is expected to challenge the North American MMA attendance record of 18,265 set last year by the Strikeforce promotion.

The impact in Ohio is huge. Before this weekend's UFC, the largest gate for a boxing/MMA event was just less than $250,000 for a Don King-promoted fight in Cincinnati in 2001. The UFC flew past that amount just hours after tickets went on sale.

(Source)