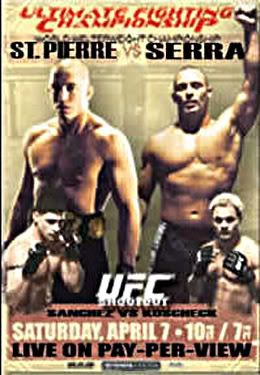 Las Vegas, NV – The Ultimate Fighting Championship® today released the full lineup of fights for the upcoming UFC 69: SHOOTOUT featuring UFC World Welterweight Champion Georges "Rush" St-Pierre vs. The Ultimate Fighter® 4 "The Comeback" winner Matt "The Terror" Serra; Josh Koscheck vs. Diego Sanchez; Roger Huerta vs. Leonard Garcia; Mike Swick vs. Yushin Okami; and Alan Belcher vs. Kendall Grove. Also on the card are exciting matchups between Brad Imes vs. Heath Herring; Thales Leites vs. Pete Sell; Marcus Davis vs. Pete Spratt; and Josh Haynes vs. Luke Cummo. The UFC® organization presents UFC 69: SHOOTOUT live from Houston at the Toyota Center Saturday, April 7, 2007.

Fight Card:
GEORGES ST-PIERRE vs. MATT SERRA
DIEGO SANCHEZ vs. JOSH KOSCHECK
ROGER HUERTA vs. LEONARD GARCIA
MIKE SWICK vs. YUSHIN OKAMI
ALAN BELCHER vs. KENDALL GROVE
BRAD IMES vs. HEATH HERRING
THALES LEITES vs. PETE SELL
MARCUS DAVIS vs. PETE SPRATT
JOSH HAYNES vs. LUKE CUMMO

Tickets for UFC 69: SHOOTOUT are on sale for $450, $350, $250, $150 and $50 and are available online at www.toyotacentertix.com, by phone at 1-866-4HOUTIX, at the Toyota Center Box Office or select Houston area Randall's locations.

UFC 69: SHOOTOUT is available live on pay-per-view in Standard or High-Definition (HD) where available at 10 p.m. EST/7 p.m. PST on iN DEMAND, DIRECTV, DISH Network, TVN, Bell ExpressVu, Shaw Communications and Viewer's Choice Canada. The suggested retail price for Standard Definition is $39.95 ($39.99 CAD) and $49.95 for HD.

Also on the UFC 69: SHOOTOUT card is a fierce lineup of undercard bouts including: Brad Imes vs. Heath Herring; Thales Leites vs. Pete Sell; Marcus Davis vs. Pete Spratt; and Josh Haynes vs. Luke Cummo.

Brad "The Hillbilly Hearthrob" Imes (6-2-0) 6'7"/260 lbs. fighting out of Springfield, is a former Division I football player for Missouri. Imes moved from the obscurity of the offensive line to the bright spotlight of the UFC with his stint on the second season of The Ultimate Fighter®. A finalist on The Ultimate Fighter 2, Imes' mixed martial arts career has been epitomized by classic toe-to-toe scraps with Rashad Evans and Dan Christison, and his willingness to engage in fan-friendly fights has made 'The Hillbilly Heartthrob' a favorite among UFC followers. Recently sidelined by injuries, Imes is healed and ready to get back in the Octagon™ for his toughest test to date Heath "The Texas Crazy Horse" Herring. Fighting out of Las Vegas, Herring (26-12-1) 6'4" 250 lbs. is a true Texan from the top of his ten-gallon hat to the bottom of his cowboy boots. Waco-born Herring is finally coming home to compete in front of his loyal fans. That's good news for people in the Lone Star State, because when 'The Texas Crazy Horse' is on his game and matched with a fighter as eager to throw down as he is, it makes for some of the most memorable fight action you will see all year. Looking to erase the memory of a disappointing decision loss to Jake O'Brien in January, Herring, one of the premier heavyweights of this era, knows that his ascension up the UFC ranks is riding on this must-win fight against giant Imes.

Thales Leites (9-1-0) 6'1"/185 lbs., fighting out of Rio de Janeiro, made his bones as a professional fighter on the tough Brazilian fight circuit. Twenty-five year old Leites gets a second chance to make a first impression when he takes on Pete "Drago" Sell. A Jiu-Jitsu practitioner since the age of 17, Leites' stellar ground attack was in evidence as he built an unbeaten 9-0 record against veteran standouts such as Ronald Jhun and Jose Landi-Jons. But in his UFC debut against Martin Kampmann last November, Leites faced defeat for the first time in his three year career, losing a three round decision. Yet in that defeat, Leites displayed the qualities that may one day make him a champion, as he showed heart and determination to win even when the outlook for victory was bleakest. His heart will be put to test as he takes on Sell (7-3-0) 5'11"/185 lbs. Fighting out of Bayshore, N.Y., Sell is an aggressive fighter who never shies away from a toe-to-toe war. "Drago" may have gained more fans in a November defeat to Scott Smith than most fighters do by winning. After trading haymakers with Smith for over seven minutes, Sell landed a devastating

* Related News
* UFC lightweights are heavy hitters in TUF season 5
* UFC 69: SHOOTOUT main card line-up
* UFC's ad Rising Latino Stars Featured in ESPN's Deportes la Revista
* UFC Announces UK Fight Card
* 'The Pearl' to Hold UFC Fight Night April 5th

body shot that hurt his opponent badly, but in his overeagerness to finish Smith off, Sell ended up the victim of a spectacular knockout. Having learned from his mistake, Sell – a protégé of welterweight contender Matt Serra – plans on coming back stronger and more disciplined when he makes his return to the Octagon in a key middleweight matchup against Leites.

Marcus "The Irish Hand Grenade" Davis (15-4-0) 5'10"/170 lbs., fighting out of Bangor, Maine, is the proud owner of one of the best nicknames in all of combat sports. "The Irish Hand Grenade" has shown in recent months that he's more than just a guy with a catchy ring name. Last October, a first round submission win over Forrest Petz announced Davis' arrival as a true mixed martial artist and not just as a former pro boxer with some MMA thrown in. Just to make sure future opponents wouldn't fall asleep on his standup qualities, he hurt veteran Shonie Carter with pinpoint countershots all night in December en route to a clear cut decision win. With a high comfort level while standing or on the mat, Davis is one dangerous man and a force to be reckoned with as he takes on Pete "The Secret Weapon" Spratt (16-7-0) 5'9"/170 lbs. A firm believer in the Randy Couture school of thought that life as a mixed martial artist begins at 35, 36-year old Spratt has resurrected his career after a stint on the fourth season of The Ultimate Fighter. With a win over Jeremy Jackson already in the bank, this Muay Thai specialist with the crushing leg kicks wants to add Marcus Davis to his victim list. To get ready for the former pro boxer, Sherman, Texas' Spratt has enlisted former world champion Jesse James Leija to help him in training camp. The fruits of those labors should be evident as he goes head to head in the Octagon with Davis.

Josh "Bring the Pain" Haynes (9-6-0) 5'9"/185 lbs., fighting out of Portland, Ore. is an inspirational fighter who once tipped the scales at 330 pounds. Josh Haynes has made the transformation from super heavyweight to the welterweight limit of 170 pounds with a mix of hard work, desire, and discipline. Along the way, he's made a name for himself as a hard-nosed brawler who always gives fight fans' their monies worth. After stunning the competition by fighting his way to The Ultimate Fighter 3 finale, he fell short against Michael Bisping. Then, Haynes thrilled a packed house at the Hard Rock Live Arena in Florida last October with the fight of the night while losing a close decision to good friend Rory Singer. Rest assured, win or lose, Haynes is ready to 'Bring The Pain' onto Long Islander Luke "The Silent Assassin" Cummo (16-7-0) 6'0'/170 lbs. When Luke Cummo first entered the consciousness of fight fans during the second season of The Ultimate Fighter series, the consensus was that this New Yorker wasn't your typical fighter. Despite his quirky behavior outside the Octagon, once 'The Silent Assassin' steps inside of it, it is clear that with his crisp standup game and willingness to scrap, he is a fighter to be reckoned with at 170 pounds. Since losing a close decision to Joe Stevenson in the The Ultimate Fighter 2 finale in 2005, Cummo has continued to put on exciting fights while accelerating his development as a mixed martial artist, a progression he hopes to make with a win over Haynes.

All bouts are subject to change.

About The Ultimate Fighting Championship

The Ultimate Fighting Championship® brand is the world's leading professional mixed martial arts organization and offers the premier series of MMA sports events. Owned and operated by Zuffa, LLC, and headquartered in Las Vegas, Nev., the UFC® organization produces approximately twelve to fourteen live pay-per-view events annually that are distributed through cable and satellite providers. In addition to its U.S. distribution, UFC fight programs are distributed throughout the world including broadcast on WOWOW, Inc. in Japan, Globosat in Brazil and Bravo in the United Kingdom. For more information, or current UFC fight news, visit www.ufc.com.

Ultimate Fighting Championship®, Ultimate Fighting®, UFC®, The Ultimate Fighter®, Submission®, As Real As It Gets®, Zuffa™, The Octagon™ and the eight-sided competition mat and cage design are registered trademarks, trademarks, trade dress or service marks owned exclusively by Zuffa, LLC in the United States and other jurisdictions. All other marks referenced herein may be the property of Zuffa, LLC or other respective owners.