By Derek Constable

Untamed X Talent Spills Over From the Ring to the Corners

Full Force Productions returned to Plymouth, Massachusetts on March 10, filling three tiers of Memorial Hall with mixed martial arts fans eager to see Untamed X unfold. Randy "The Savage" Rowe unleashed two new super-heavyweights on the game and it was a night of new and old faces as Ultimate Fighting Championship veterans Ken Florian and Joe Lauzon were corner men and five fighters on the card made their MMA debuts.

Paul Gorman defeated Dan Ferrer in the night's main event, but before any of the fights got underway; promoter and emcee Mike Varner brought young "Dougie" into the ring and introduced him to the crowd as the night's guest of honor. Douglas, who is no more than 10 years old and a neighbor of Mike True (another member of the FFP team), will be flying to Disney World before long as part of the Make-A-Wish Foundation and Full Force Productions decided to use Untamed X as a platform to help raise a little spending cash for the young lad before he take's his trip.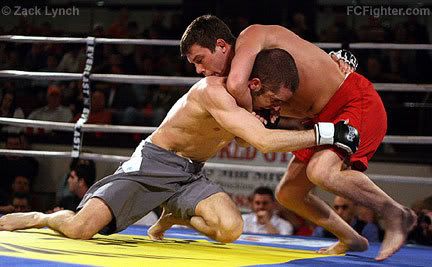 Regardless of the town or venue, Varner, True and Mike Littlefield always do their best to find a worthy cause they can help out, knowing full-well the number of people they can reach at each one of their shows.

-Jerry Spiegel (Lion Kill) won with an inverted heel hook in his first fight back from a tough loss to Nate Kittridge (Burgess) at the last Reality Fighting show in New Hampshire. Spiegel came out the aggressor against Chris Rondeau (Fightzone) and defeated him after little standup by dropping for a heel hook and working the hold tighter until Rondeau was forced to tap 1:38 R1.

-Josh Grispi (SSS) was a late addition to the fight card and stepped in for Bobby McAndrews (IMAS) to face Fernando Bernardino (CCFA). This was one of the closest battles of the night, the only match to reach overtime and either man could have easily been called the winner after three rounds.

-Matt Smith (Dragon Warrior) defeated Chris Snow (Boneyard) by using his superior ground came to make flawless transitions around Snow's guard and ended the fight by guillotine choke.

-Gorman (AMMA) and Ferrer (Santos) capped off a great night of fights with a back-and-forth battle that paired off two very skilled super-lightweights. Gorman won by unanimous decision and helped earn the judges favor with a spectacular high-crotch slam in the first round. The two fighters both stayed extremely active and never lost their wind, but Gorman took the edge with several submission attempts and his powerful takedown.


Results

Main Event
Super-Lightweight/ Paul Gorman (AMMA) def. Dan Ferrer(Santos) by majority decision (20-18, 20-18, 19-19).

Brian Conrad (Bishops) def. Jason Papas (Savage) by TKO 2:44 R2
Greg Rebello (CCFA) def. Shawn DePaul (MSA) by TKO 3:50 R2
Jerry Spiegel (Lion Kill) def. Chris Rondeau (Fightzone) by inverted heel hook 1:38 R1
Eric Foley (SSS) def. Charlie Thomas (Savage) by unanimous decision
Darron Andrew (MSA) def. Dan Savery (Santos) by unanimous decision
Matt Smith (Dragon Warrior) def. Chris Snow (Boneyard) by guillotine 1:27 R1
Troy Tondalo (Savage) def. Darryl Paquette (Independent) by TKO 1:31 R1
Josh Grispi (SSS) def. Fernando Bernardino (CCFA) by majority decision (10-9, 10-9, 10-9)
Don Amarasinghe (MSA) def. Josh Spearman (Dragon Warrior) by straight arm bar 2:07 R1