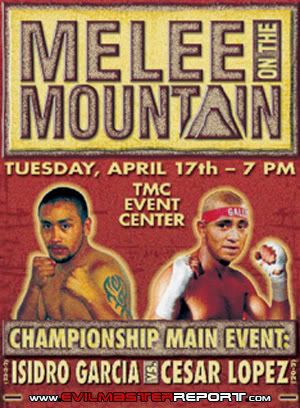 FRESNO, Calif. and FRIANT, Calif., March 22 /PRNewswire/ -- Table Mountain Casino and Roy Englebrecht Events have signed an agreement to bring World Championship fights to Central California in 2007 with Table Mountain Casino's high impact Tuesday Night MELEE ON THE MOUNTAIN series. In what is believed to be the first combination series of its kind in California, Tuesday Night MELEE ON THE MOUNTAIN will include boxing cards on April 17 and September 18 and a Mixed Martial Art event on July 24, 2007.

The April 17 six-bout premier card features a much anticipated World Championship match up pitting former world champion Isidro 'El Chino' Garcia against Cesar Lopez in a 12 round battle for the vacant IBA Flyweight Championship of the World.

An ex-champion back into the title picture again, Isidro 'Chino' Garcia (23-3-2, 8 KOs) still has some unfinished business to tend to in the 112-pound weight class. Born in Guerrero, Mexico, Garcia first won the WBO world flyweight championship in 1999 when he went from title fight spectator to world champion after replacing Alejandro Montiel who backed out of that night's title fight with Jose Lopez hours earlier.

After settling into his seat as a spectator, Garcia was asked if he wanted the title fight. So, with a borrowed mouthpiece and trunks, Garcia not only fought Lopez, but decisively won the championship with a 12 round decision. Garcia defended his title once then lost it Fernando Montiel in December of 2000. After a long break from the ring, Garcia returned three months ago knocking out Jorge Lopez in just two rounds and setting the stage for this IBA Flyweight World Championship fight with Lopez.

The pride of El Paso, Texas, 23-year-old Cesar 'El Gallito' Lopez brings excitement to the ring every time he steps between the ropes. Winner of 20 out of 23 bouts, Lopez has won two in a row since a hard-fought decision defeat at the hands of Glenn Donaire. A win over Garcia, a former world champion, not only means the vacant IBA title but will lead to even better paydays in the ultra-competitive flyweight division.

Also in action on the April 17th card will be local fighters such as junior middleweight Loren Myers, Fresno State student and junior welterweight pro Yoshi Fujii, and exciting female middleweight Danielle Christiansen.

MELEE ON THE MOUNTAIN in July will feature the world's fastest growing sport, mixed martial arts, making Table Mountain the first Casino in California to promote a mixed fight series featuring boxing and mixed martial arts.

'We are excited about the combination of championship boxing and mixed martial arts that brings world champions to the Valley and lets our local fighters excel on a much bigger stage,' says John Mayewski, President of Table Mountain Casino.

The 1,200-seat Table Mountain Casino Event Center is an intimate venue for fight fans that keeps them close to the action and 'championship boxing and mixed martial arts are a perfect fit for the Valley's Entertainment Destination,' says Mayewski.

Tuesday Night MELEE ON THE MOUNTAIN is part of a continuing effort at Table Mountain Casino to attract world-class sporting events of interest to Fresno area residents and to continue making quality national-level entertainment available and affordable in the community.

Tickets for the April's MELEE ON THE MOUNTAIN Championship Card go on sale at the Main Casino Cage or online (tmcasino.com) on March 19 and are priced at $50 VIP, $40 Gold, $30 Reserved and General Admission $20. Club members receive a $5 discount and Platinum members receive a $10 discount. Doors for MELEE ON THE MOUNTAIN open at 6:00 p.m. Fights begin at 7:00 p.m. There are no refunds. Video or cameras are not allowed at the fight and you must be 18 years or older to attend. Fight card subject to change.