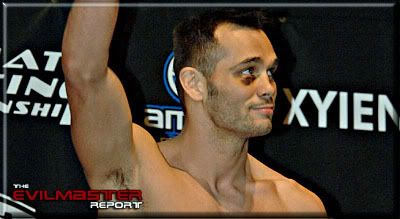 COLUMBUS, Ohio -- Like many fight fans, Canadian Jason MacDonald wonders which Rich Franklin the world will see tonight at UFC 68: The Uprising.

The 31-year-old mixed martial arts fighter from Red Deer will get the best view. He'll be in the ring facing Franklin.

Last time out, Franklin entered the ring as UFC middleweight champion, riding an eight-fight win streak. Two minutes 59 seconds later, he was on his back, stunned with a badly broken nose while Brazilian hard man Anderson Silva was celebrating. Surgery followed in the wake of the October loss, only Franklin's second in 24 fights.

MacDonald (19-7) has won his last six bouts but knows how a loss can play on a fighter's mind.

"You start to question what you're doing and what you've done in the past. And is this really what you want to do?" he told The Canadian Press in an interview.

"I guess the big question is how is he (Franklin) going to bounce back from not only a devastating loss, but a loss where he was injured fairly badly?"

Franklin, 32, has had plenty of time to sift through the wreckage of the Silva fight.

"I don't think you can go through a loss like that and not re-evaluate things," Franklin said. "You start re-evaluating every aspect of your life: your focus inside your career, your focus outside your career. Your training, your coaches ... You make the necessary changes you need to make and hope it corrects the problem."

In contrast, MacDonald has the right kind of momentum after impressive submission wins in his two UFC fights to date: Ed Herman and Chris Leben. The Canadian rendered Leben unconscious at UFC 66.

But Franklin is a step up in class from those two: a well-rounded, well-conditioned pro.

He is also a gentleman. Asked about a video clip on the card's official website in which he talked of a first-round knockout Saturday night, Franklin was quick to note the clip was taken out of context. He had been responding to a best-case scenario question and not disrespecting his opponent.

"From the brief encounters that we've had, he seems a very respectful, standup guy," said MacDonald.

The fight (available on pay-per-view) is on the undercard of the Tim Sylvia-Randy Couture heavyweight title fight. Former welterweight champion Matt Hughes is also on the card, facing Chris Lytle.

A big crowd was on hand at the Nationwide Arena to boo Sylvia at Friday's weigh-in. The six-foot-eight champion tipped the scales at 263 pounds, two below the heavyweight limit, compared to 222 1/2 for the ever-popular Couture.

Hughes weighed in at 171, compared to 169 for Lytle.

MacDonald was 183 1/2 while Franklin was 185 on the button. A Cincinnati resident, the former champion was well-received at the weigh-in.