By Monty Mosher

Hantelman to meet Richards in first female bout in Maritimes.

Tannaya Hantelman smiled and giggled her way through a series of media interviews Wednesday. She didn't look like a young woman with a mean streak ready to bust somebody up in a steel cage.

But Fall River's Hantelman, a member of Titans Mixed Martial Arts in Halifax, says she can't wait to take part in the first female bout staged in the Maritimes on the Extreme Cage Combat V card set for the Halifax Forum on March 31.

Hantelman, about to turn 25, will take on Hamilton's Debbie Richards in the first match for both fighters. It will be at 135 pounds. "It's exciting," said Hantelman. "I'm training really hard and I love doing what I'm doing. I expect to win. My mom says I'm going to win."

If she's a pioneer in the region, that's fine with her. She doesn't see what she's doing as anything special. "Hopefully, other girls will want to do it. I know lots of girls I train with love it, too. Once they train a little bit more they'll do it, too."

Born in Regina, she moved to Fall River last April with her family. She is a student at Maritime Business College. She entered a martial arts academy while living in Winnipeg several years ago just for fitness training and grew to love sparring.

A powerful striker with strong kicks, she said she'll have no fear entering the cage. She said she's been knocked out a number of times in training and takes shots every day in the gym.

She views fighting as a natural extension of sparring, more of a physical chess match than brawling. "It's fun," she said. "I'll be ready." Hantelman's mother, Karon Fiesel, said she supports her daughter's ambitions. "I worry about her being hurt, but I have confidence with all the training she's done that she's not going to get hurt. I think she'll be fine."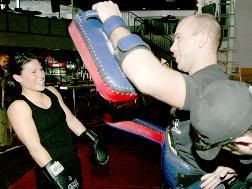 ECC promoter Peter Martell has rejected bouts for other women on previous cards on grounds they weren't ready for the cage. An accomplished martial arts practitioner, he knows Hantelman is ready after sparring with her.

"She's a competent fighter and I think she's going to do very well," he said. "She's a great striker and her grappling is coming along. She's been working on defending against the ground game and she's hoping to win with strikes." The fight card will be highlighted by three matches for new titles created by the ECC.

Halifax's Roger Hollett (4-0) will take on Montreal's Ricardeau Francois (12-7) in the main event at 205 pounds. Pictou County's Jason Mackay, also 4-0, will strip down 15 pounds to fight Ontario's Shaun Krysa (4-0) for the 155-pound championship and Rowan Cunningham (4-1) of Port Williams will meet Montreal's Cory MacDonald (4-1) for the 170-pound belt.

Hollett, who will give away seven inches to the six-foot-six Francois, enters off a sensational win in Edmonton last month that saw him knock Edmonton Eskimos fullback Mike Maurer into unconsciousness in 36 seconds. His win was so dominating it got Edmonton promoters eager for more. Hollett is scheduled to fight in Edmonton against an opponent to be announced in April.

Hollett said he's interested in at least three more fights in Canada before seeking some interest in U.S. markets as early as 2008. He said he's not concerned that he keeps beating his opponents in a matter of seconds. None of his wins has lasted a round.

"No man, I've got to keep my mom happy," he said. "She says don't stay in there too long and get hurt. I've got to wrap 'em quick for mom." He said he likes the creation of the new ECC belts. "I'm excited to be the next champ," he said.

Other Nova Scotians on the 13-bout card are Tim Kelly, Peter McGrath, Curtis Fiander, Aaron Jollimore, Adam MacDonald, Matt Dutkoski, Mike Skutter and Ryan Jimmo, all of Halifax, Amherst's Tim Skidmore and Kentville's Matt Hamilton.

(Source) (Alternate Article)