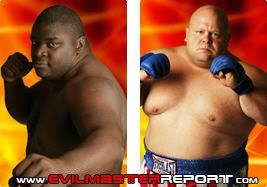 The pieces continue to fall into place for PRIDE.34 "KAMIKAZE," as two more matches for the event were announced earlier today.

In what will be a war of behemoths, Wagner "Zuluzinho" da Conceicao Martins will do battle with the American boxer Eric "Butterbean" Esch. Also, the always-controversial Gilbert "The Hurricane" Yvel will square off against Russian Top Team fighter Bazagit "Volk" Atajev.

With a combined weight of 740 lbs., Zuluzinho vs. Butterbean will be the heaviest match in PRIDE history. Boasting a 9-3-1 record and a recent KO victory over James Thompson, Butterbean has continued to prove his doubters wrong. However, the age advantage goes to the big Brazilian, who is ten years younger than his always-entertaining American opponent. This match will also be Zuluzinho's return to PRIDE after a yearlong hiatus, and as such, all eyes will be focused on how much a year of training has paid off.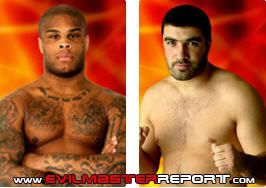 With Yvel vs. Atajev, fans can expect a striking slugfest, as both combatants come in hungry to make their mark in PRIDE. Yvel has an accomplished record of 29-11-1, and is riding high on a two-match win streak and a rejuvenated lease on life. The Hurricane says he's ready to reestablish himself as a viable title contender. Atajev, however, is not someone that any fighter can take lightly. This teammate of PRIDE heavyweight champion Fedor Emilianenko is an expert in the arts of Russian Sambo wrestling and Chinese Sanda. He's an Olympic hopeful for Beijing 2008 and is hell-bent on making a name for himself in PRIDE.

PRIDE.34 "Kamikaze" will be held on April 8, at the Saitama Super Arena in Tokyo. For the first time ever, a Japanese-based PRIDE show will be broadcast live via PPV on DirecTV, DISH Network, and inDEMAND providers. For all other countries, check your local cable / PPV providers for schedule times.

PRIDE