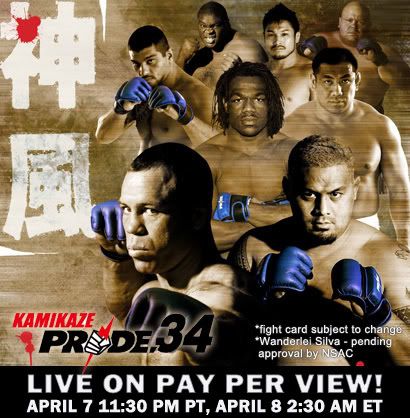 The official Pride website is reporting that Bazigit "Volk" Atajev will be unable to fight Gilbert Yvel as scheduled this weekend at Pride 34 "Kamikaze," due to what the statement reads as "an internal disease." The fate of the Dutch veteran's (29-12-1) status as to whether or not the promotion will find an opponent for Yvel in time for Saturday has yet to be determined.

Yvel has won his last two fights, including a TKO stoppage of Ultimate Fighting Championship veteran Fabiano Scherner at Cage Rage 17 last July. In his last Pride appearance at the Total Elimination Absolute 2006 event last May, Yvel was knocked out by Russian Red Devil member Roman Zentsov.

The bout for Atajev would have marked his first return to the Pride ring since 2002, when he was knocked out by Alistair Overeem at Pride 24, his only career loss thus far. Among the victories in his 12-1 record, the Russian fighter has wins over Roman Zentsov, Aaron Brink, and Tsuyoshi Kosaka.