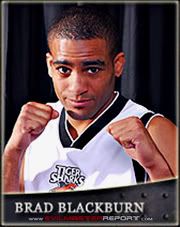 By Ben Fowlkes

The last time Brad Blackburn saw action inside the IFL ring, he outpointed top welterweight Chris Wilson to win a three-round unanimous decision. Though his team would go on to lose the contest, Blackburn's win seemed to signal the start of big things for the Washington-native.

With the 2007 season approaching and the Tiger Sharks slated to fight first against the newly formed Southern California Condors, Blackburn hit the gym harder than ever to prepare for a breakout year.

"In this sport, you have to work on your weaknesses, and that's what I did," Blackburn said. "Guys will find out where you're weak and take you there."

Blackburn had already learned that lesson in the IFL, and admitted that at times he spent too much time focusing on just his ground game, to the detriment of his striking. But he had rectified that situation in time for his first fight of the new season, a scheduled match-up with Rodrigo Ruas – the nephew of MMA legend Marco Ruas.

But after his months of preparation, Blackburn was dismayed when the fight was called off. Eye surgery kept Ruas off the card, and the replacement was reportedly injured in training just a few days before the fight.

"I'm not sure I really believe that, because why would you be training that hard that close to the fight?" Blackburn said.

The frustration was almost too much for him to bear. After such intensive training to get himself ready, he had no choice but to sit and watch his teammates fight without him.

"I was very disappointed," Blackburn said. "It was like I had a new exhaust pipe on my motorcycle and I could start it up but I couldn't ride it."

Blackburn had no choice but to wait until his team's next contest, an April 7th showdown with the Chicago Red Bears that would pit him against top Midwestern circuit fighter Mark Miller (5-2).

Miller won over the crowd with a gritty performance in his first IFL fight, a hard-fought decision loss to the Pitbulls' Delson Heleno in February. Blackburn has to know that Miller will be hungry for his first IFL win this Saturday, and he can't afford any ring rust against such an aggressive striker.

"I expect him to be well-rounded and I expect him to be in good shape," Blackburn said of Miller. "But I think definitely I'm one of the top guys right now."

With the departure of Wilson, the welterweight division is fairly open at this point, and it's young fighters like Blackburn and Miller who are hoping to walk through the door. The Anacondas' Jay Hieron has proved himself an early favorite with two decisive victories, but many still consider explosive striker Rory Markham the man to beat.

Blackburn came close to succeeding in that task when he and Markham met last June. But early in the second round Markham caught the Tiger Sharks' fighter with a clean punch, knocking him out in one shot.

"If you watch that fight with Rory, you'll see I dominated the whole fight up to that point," Blackburn said. "And yeah, I did get caught, but I was winning that fight."

If Blackburn is hoping for a rematch with the Silverbacks slugger, he'll get a chance to do some early scouting this Saturday when the two fight on the same card. Markham is facing the Lions' Pat Healy, and is also hoping to get back into action after an eye problem kept him off the Silverbacks last card.

At 0-1, the Tiger Sharks and Silverbacks both need to win their respective team contests if they hope to make the playoffs, where Blackburn might get another shot at Markham. But Blackburn can't get caught looking past Miller unless he wants to find himself in a world of trouble.

No matter what happens when Blackburn gets in the ring on Saturday night, no one will be able to say he wasn't prepared.