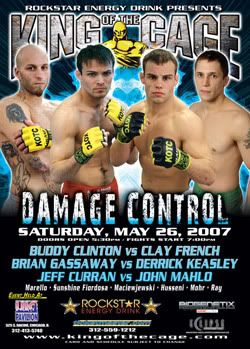 King of the Cage has announced several notable fighters will compete at the promotion's May 26th, "Damage Control" event, which will take place at the UIC Pavillion, in Chicago, Illinois. KOTC Lightweight Champion Clay French (9-2) will take on Buddy Clinton (9-3), in French's first bout since defeating Mac Danzig for the title by majority decision in January. Clinton has won two fights in a row since he failed in his title bid against Danzig last August, defeating Corey Garner and Donald Sanchez in November and January respectively.

Pride and UFC veteran Jeff Curran (28-8-1) is slated to fight John Mahlow (7-7). Curran has won 3 fights in row since losing to Hatsu Hioki by decision at Bushido 12 last August and most recently, submitted Donny Walker with a 3rd round rear naked choke at KOTC "Hard Knocks" in January. Mahlow will be looking to get back on track, after losing his last 3 bouts in a row.

Another Illinois veteran, Brian Gassaway (23-16-1), will take on Derrick Keasley (4-4). Gassaway is coming off a rear naked choke submission loss to John Alessio at World Extreme Cagefighting 25 in January, while Keasley, recently dropped a unanimous decision loss to Kimo Woelfel at last weekend's ICON Sport 50.