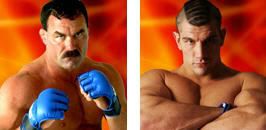 Don Frye VS James Thompson

The card for PRIDE.34 "KAMIKAZE" continues to fill out with two more announced matches, as Yoshihiro "KISS" Nakao squares off against the dangerous Brazilian Edson Drago, while James "The Colossus" Thompson throws down with the ever popular Don "The Predator" Frye, who returns to PRIDE after a four-year hiatus.

Few other names are as synonymous with PRIDE's ten-year history as Don Frye's. His list of PRIDE victories includes names like Ken Shamrock and Gilbert Yvel. Moreover, his brutal slugfest with Yoshihiro Takayama at PRIDE.21 was considered such a classic that the two were asked for a repeat performance in the Japanese period action film Nagurimono. James Thompson, however, is a young powerhouse who recently scored a major upset TKO win over Hidehiko Yoshida at PRIDE SHOCKWAVE 2006. Frye had a successful run last year, going 3-0-1 in MMA, and he'll look to continue that streak with his first match of 2007.




Yoshihiro Nakao VS Edson Drago

For Yoshihiro Nakao and his opponent, Edson Drago, fighting at PRIDE.34 represents a chance at redemption. Nakao, an amateur wrestling wunderkind, suffered his first defeat back in September last year at the hands of Kazuhiro Nakamura in a match that was very poorly received by the fans. Likewise, Edson Drago, who has terrorized the Brazilian MMA world with a string of first-round victories, dropped his first loss last summer to Pawel Nastula at PRIDE CRITICAL COUNTDOWN ABSOLUTE 2006." Neither Nakao nor Drago are used to being on the short end of the stick, and both are determined to turn things around with a victory at PRIDE.34 "KAMIKAZE."

PRIDE.34 "KAMIKAZE" will be held on April 8, at the Saitama Super Arena in Tokyo. For the first time ever, a Japanese-based PRIDE show will be broadcast live via PPV on DirecTV, DISH Network, and inDEMAND providers. For all other countries, check your local cable / PPV providers for schedule times.