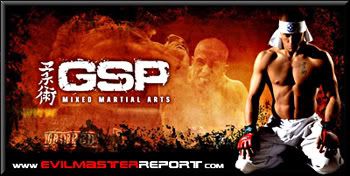 By Loretta Hunt

UFC Welterweight Champion Georges St. Pierre, who makes his first title defense at this Saturday's UFC 69 "Shootout" in Houston, Texas, had some choice words for opponent Matt Serra. Of course, all of those words were positive and amiable as is this gentlemanly champion's way.

"Rush" did comment on his change in training this time around, as both he and Serra share the same jiu-jitsu instructor in world-famous Renzo Gracie.

"Because Matt is the elder student I didn't train at Renzo's this time," St. Pierre explained. "I think the school in New York is the best in the world for jiu-jitsu, but I had to replace that training. I actually brought in Nathan Marquardt and Rashad Evans. I think its going to be the key to the success."

When asked if the lack of animosity between the two welterweights could affect the fight's intensity, St. Pierre answered, "I do not fight with anger. I fight mechanic. I do not fight with emotion, but I do fight with my heart. Matt and I are acquaintances, but not friends. I would never fight a friend."

Serra added that his Canadian counterpart will be welcomed back warmly at Gracie's Academy following the fight.