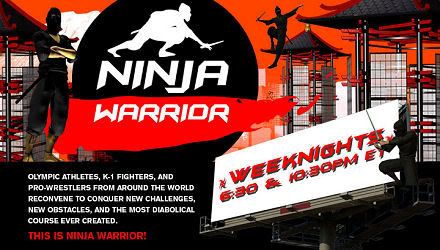 By Mick Hammond
Image: G4TV.com

MMA and K-1 fans have long known that Genki Sudo is a world class fighter, but what we don't know is, is Genki Sudo a Ninja Warrior? We will get this evening as Genki Sudo participates on G4TV's "Ninja Warrior" program re-airing at 7:30PM Pacific / 10:30PM Eastern tonight.

"Ninja Warrior" is the American version of the popular Japanese show/event SASUKE, that airs Monday – Friday and weekends on the G4 Network, and showcases participants trying to get through an ominous four-stage obstacle course.

Genki is one of many MMA fighters to participate in the event, including former King of Pancrase and current PRIDE fighter Sanae Kikuta and K-1 fighter Bobby Ologun. Notable American athletes who have competed in "Ninja Warrior" include Olympic medaling gymnast brothers Paul and Morgan Hamm, and Olympic decathlete Paul Terek.

Recently Sudo retired from fighting, after amassing impressive records in both MMA and K-1 competition. His last fight was a first round submission victory over Greg Jackson student Demacio Page at K-1 Premium Dynamite this past New Year's Eve in Osaka, Japan.