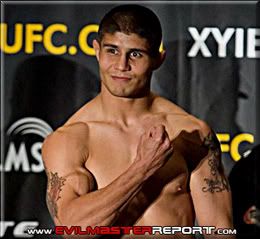 By Thomas Gerbasi

April 5 –The bad blood was evident between lightweight contenders Joe Stevenson and Melvin Guillard leading up to their UFC Fight Night main event at The Pearl at The Palms tonight, but Stevenson was a cool customer once the bell rang, stunning all in attendance with a seemingly effortless 27 second submission win over 'The Young Assassin."

"I was nervous with his athletic ability and explosiveness and it could have gone just as fast the other way," said the gracious Stevenson.

Surprisingly it was Stevenson that landed the first telling blow on the fierce striker, briefly stunning Guillard with a left hand. It was the opening he needed as he got Guillard to the mat and quickly sunk in a guillotine choke, producing a stirring submission victory.

With the victory, Stevenson, unbeaten as a UFC lightweight at 3-0, improves to 32-7. Guillard falls to 39-7-3.

Justin McCully proved to be more than just Tito Ortiz' training partner in his heavyweight bout against Antoni Hardonk, pounding out a three round decision win to gain his first UFC victory.

Scores were 30-27 across the board for McCully, who lifts his record to 8-3-2. Hardonk falls to 5-3.

McCully negated Hardonk's striking advantage almost immediately, taking him down and working the Team Punishment trademark, the ground and pound. Yet while Hardonk was unable to get back to his feet, he was effective from the bottom, almost securing McCully's arm twice before the end of the stanza.

The pattern continued again in the second, but not before Hardonk got a few shots in. This time on the ground though, McCully tried to push the pace without getting caught again and was successful, using his skills as a Jiu-Jitsu black belt to stay just out of reach as he potshotted his opponent.

Going to the fence as soon as he was able to, McCully kept Hardonk close, but the Amsterdam fighter still was able to score at short range. With just over two minutes left though, McCully secured the takedown and took control of the action again. It was where the fight would stay, with McCully riding out the clock to victory.

In the Spike TV opener, Lightweight contender Kenny Florian showed no ill effects from his title bout loss to Sean Sherk last October, notching the most impressive win of his MMA career with a third round submission victory over Dokonjonosuke Mishima.

"This is a new Kenny Florian," said the winner, who went five rounds with Sherk before losing a unanimous decision at UFC 64.

After some brief standup from both men, the bout hit the mat late in the first minute of the opening round, with Mishima (17-6-2) attempting to work his ground and pound on the Massachusetts native. Florian (8-3) quickly worked his way out of trouble, getting into Mishima's guard at the midway point and opening up with both hands when the openings presented themselves. With a little over a minute left, the two stood, with Florian again pushing the pace and scoring with leg kicks while Mishima missed with a wild haymaker and a spinning back fist.

Florian's leg kicks continued to pay dividends early in the second, and Mishima was visibly bothered by them. A missed kick by the Japanese fighter brought the fight to the mat, and again, Florian controlled the action until he decided to rise and attack from a standing position. The fighters were only upright briefly though, as Florian put Mishima on his back and scored with a few blows before standing again. With under a minute left in the round, Florian's left kicks to the leg were caving Mishima in, but the 35-year old veteran refused to give in.

The pace dipped early in the final round, but despite apparently having the fight secured, Florian kept the pressure on and it almost cost him as Mishima almost landed a fight saving kneebar. It was Mishima's last stand though, as Florian escaped and turned up the heat, sinking in a fight-ending guillotine choke with just 1:03 left in the bout.

Wilson Gouveia (8-4) continued his trek up the light heavyweight ranks with a second round submission win over Seth Petruzelli.

Petruzelli (10-5) was the more aggressive fighter early on as he pursued Gouveia across the Octagon and mixed up his standup attacks in an attempt to end the fight. Gouveia kept his cool, firing back leg kicks and then scoring a takedown as the bout approached the two minute mark. On the ground, Gouveia took control with a ground and pound attack until the bell.

The Brazilian took that momentum into the second round, quickly taking Petruzelli to the mat and submitting him with a guillotine choke at the 39 second mark.

"That man is tough and he hits hard, but I expected it to go into the second round where I could use my jiu-jitsu," said Gouveia.

Drew Fickett survived an illegal downward elbow from Keita Nakamura in the second round of their welterweight bout to finish strong and win a unanimous decision over the gutsy Japan native in a highly entertaining scrap.

Scores were 29-27 twice and 30-26 for Fickett, who improves to 31-5. Nakamura falls to 13-2-2.

Known for his ground game, Fickett hit pay dirt with his standup in the early going, jarring 'K-Taro' briefly, which only seemed to wake Nakamura up as he came back with both fists blazing.

By the second round, the scars of battle were showing on the faces of both men, but that didn't prevent them from continuing their toe-to-toe war. Once the fight hit the ground though, Nakamura started to pull ahead, only to get penalized a point for the illegal elbow strike, and allowing Fickett time to recover.

After an extended break, Fickett and Nakamura resumed hostilities, but this time, the Arizona-born fighter jumped into the lead and wouldn't give it up again, as he grounded and pounded his way through the remainder of the fight en route to victory.

Kurt Pellegrino (16-2) scored the first early ending of the UFC Fight Night card, fighting off game newcomer Nate Mohr (6-4) before eventually securing an ankle lock that forced a tap out at the 2:58 mark.

"155 is my home," said Pellegrino, a former welterweight who is 2-0 in the UFC lightweight division. "Me and (Armory teammate) Hermes Franca are gonna run the UFC."

Ohio's Forrest Petz (18-4) had his moments against Kuniyoshi Hironaka (11-4), but the Japan native's ground attack was just too much as he pounded out a three round decision win. Scores for Hironaka were 30-27 twice, and 29-28.

Brazilian 155-pounder Roan Carneiro (11-5) made a successful UFC debut, unanimously outpointing veteran Rich Clementi (34-12-1) via scores of 30-27 from all three Octagon-side judges.

In the opener, highly touted lightweight prospect Thiago Tavares upped his unbeaten record to 15-0 with a shutout three round decision over Naoyuki Kotani (17-6-5). Scores were 30-27 across the board.