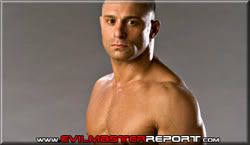 By Steve Sievert

A prohibitive underdog, Serra said before the fight he could shock the world and beat a seemingly unbeatable Georges St-Pierre Saturday night at UFC 69 at Toyota Center in Houston.

He delivered.

Serra caught the Ultimate Fighting Championship welterweight champion with a right hook that buckled St-Pierre's knees and had the champion in deep trouble. The challenger closed in and overwhelmed a defenseless St-Pierre, an 11-1 favorite, with a barrage of punches that forced referee John McCarthy to step in and wave off the fight at 3:25 of the first round.

It was easily the biggest win of Serra's eight-year mixed martial arts career and the first time he has ever finished an opponent with a technical knockout.

"It's possibly the biggest upset in the sport's history," said Serra (16-4) after the fight of his stunning victory.

"Tonight, I got beat by a better fighter," said a gracious St-Pierre (13-2) in defeat. "I made a mistake and got caught. Of course, I would like a rematch. I'm very sad right now, but I will come back."