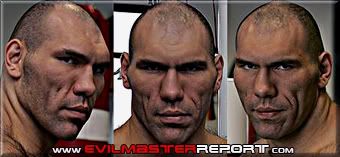 By Daniel Hiller

Now just nine days out from his mandatory world title defense against Ruslan Chagaev (22-0-1, 17 KOs), WBA heavyweight champion Nikolai Valuev (46-0, 34 KOs) has pronounced himself to be 100% prepared. The bout will take place at the Porsche Arena in Stuttgart. The popular seven-foot, 325-pounder, the largest world champion in the history of boxing, spoke to boxen.com about the fight and a variety of other topics, including the hallowed record of Rocky Marciano, which he is just four wins away from breaking.

Nikolai, another week-and-a-half to the fight – how good is your form?
Now I am at 100%. I prepare myself 100% for every fight.

What do you know about your opponent Ruslan Chagaev, who is called the "White Tyson?" What are his strengths and weaknesses?
Honestly, I don't answer questions about strengths and weaknesses of the opponent as the fight approaches. My coach and I have looked together at the fights of Chagaev on video. Also we were present at the last fight of Chagaev against John Ruiz in Dusseldorf.

You live in St. Petersburg, your coach is an Armenian. Why have you chosen to have your training camp in Germany? Wouldn't it be more pleasant to remain in your native country, particularly as you have just become a father for the second time?
Germany has become during the last few years my second homeland. I spend about half of the year here. And in Germany I have one thing above all else: my peace. In St. Petersburg, this is not the case. I'm preparing for the coming fight against Chagaev in Kienbaum near Berlin where we have previously trained several times before big fights. Here we have ideal training conditions. Also, in Germany the search for suitable sparring partners is much easier to manage.

Has the birth of your daughter Irina given you a further boost before the title defense?
Of course! The birth of my daughter, this was an indescribable feeling. Luckily she came into the world when I was in St. Petersburg. It happened between two training camps. Therefore my daughter Irina caught the optimum time to see the light of the world.

Will your wife Galina be supporting you at ringside in Stuttgart?
No, Galina isn't coming to Stuttgart. She's staying at home with our baby. I think, the reasons for it are clear.

Would you support your son if he decided to become a boxer?
Grigorij will select an occupation for himself. It is important above all that he pursues that what he seriously wants to do. And if that should be boxing, then I will support him in that also.

The fight fans in Germany have known you for many years through the TV broadcasts on ARD. Now with Viasat Sport, there is also a network which will show your fights in Russia for the next five years. Is that for you a recognition of your achievement?
Absolutely! I am excited by it. It's wonderful that my fights can be followed in all regions of Russia.

For your last four fights, you and your manager Wilfried Sauerland have worked with the legendary American promoter Don King. How is the collaboration with him going?
Actually, I only meet Don King during the fight nights. I personally maintain no business connections with him. All contractual obligations are fulfilled by my manager Wilfried Sauerland.

What do you think about the world champions in the other organizatons? Which opponent would you prefer to have a unification fight against?
For a unification fight I would prefer Wladimir Klitschko.

Many mention your name in comparison to Rocky Marciano. What do you think about this boxer and his record?
I had intitially not at all been preoccupied with this record. Statistics are not so important to me. But last year before the fight in Chicago, I was asked by American journalists over and over about it – so it also became a topic for me. Rocky Marciano is a legend. And for me it would be an honor to break his record.

What do you think about the surprising comeback attempt of Vitali Klitschko?
That is his thing...

At a press conference recently Vitali called you a "Luftballon" or "PR project." Do you get annoyed by such statements by another champion?
The chance to find out which of us is a "Luftballoon" can be only happen in the ring. One can talk a lot. He should prove it in the ring. I don't count myself among the loud talkers.

How do you motivate yourself for a fight? Are there some rituals?
No.

But, nevertheless, you always step over the ring ropes instead of climbing through like the other boxers. Isn't that a ritual? Or do you do this to intimidate your opponents?
Neither. I do this because it is simply easier for me to step over the ropes than to climb through.

Your title defense soon approaches against "White Tyson." What would like you to say to your fans before this fight?
It is of course a very nice feeling to feel the support of the fans backing me. I warmly thank all of you for your support. I wish for the fans above all health and a lot of success. And, of course, a thrilling fight.