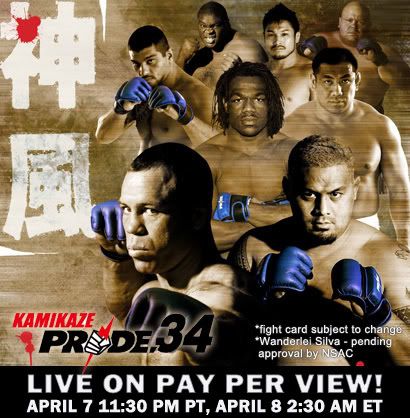 PRIDE.34 "KAMIKAZE" will be held on April 8, at the Saitama Super Arena in Tokyo. For the first time ever, a Japanese-based PRIDE show will be broadcast live via PPV on DirecTV, DISH Network, and inDEMAND providers. For all other countries, check your local cable / PPV providers for schedule times.

Fight card:

Fight 1 (Heavyweight): Don Frye vs. James Thompson

Fight 2 (Heavyweight): Yoshihiro "Kiss" Nakao vs. Edson Drago

Fight 3 (Heavyweight Bout): Kazuyuki Fujita vs. Jeff Monson

Fight 4 (Heavyweight Bout): Eric "Butterbean" Esch vs. Zuluzinho

Fight 5 (Heavyweight Bout): Gilbert Yvel vs. Volk Ataev

Fight 6 (Welterweight Bout): Makoto Takimoto vs. Zelg Galesic

Fight 7 (Lightweight Bout): Shinya Aoki vs. Brian Lo-A-Njoe

Fight 8 (Middleweight Bout): Ricardo Arona vs. Sokoudjou

Note: Wanderlei Silva may fight a yet to be announced opponent depending on issuance of his medical clearance.