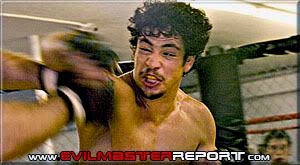 By Brady Crytzer

On Saturday, April 7th the UFC makes its long awaited debut in the Lone Star state when UFC 69: Shootout invades the Toyota Center in Houston, TX. In the co-main event, an anticipated showdown at 170 pounds, Diego "Nightmare" Sanchez takes on fellow TUF 1 castmate Josh Koscheck. Promising to be one of the great matches on the card, let's take a closer look at this match up title contenders and possible future champions.

Diego Sanchez

What a ride is has been for this 25-year-old grappler from Albuquerque, NM. A former champion high school wrestler, Sanchez has dominated opponents en route to a perfect 17-0 record fighting at an intense pace and with a very deep belief in his own abilities. Sanchez made a name for himself early during his time on The Ultimate Fighter 1 with his somewhat kooky meditation methods and personal quirks. But make no mistake about it; once this man took to the cage the others around him had a whole new reason to toss and turn in their beds…the nightmare had begun. In dominating fashion Diego fought his way to The Ultimate Finale where be blew away Kenny Florian in just two minutes. In his pay per view debut Sanchez smashed Shidokan veteran Brian Gassaway and since then he has been one of the biggest draws on any given UFC card. In a November 2005 bout with Nick Diaz, Sanchez proved that he could be just as slick as anyone winning a very exciting unanimous decision through smart grappling and smooth jiu jitsu. If any fans lost faith in the 25 year old after the three round snooze fest against old foe John Alessio they quickly gained it back when he won the 2006 fight of the year via unanimous decision against Judo whiz Karo "The Heat" Parysian. Solidifying himself in the welterweight ranks Sanchez proved his versatility knocking out well respected banger Joe "Diesel" Riggs on the feet in December.

Josh Koscheck

The UFC has set the benchmark for selecting fighters that will be major assets to their arsenal and in 2004 at only 4-0 Josh Koscheck was possibly one of their best steals ever. An NCAA champion and four-time All American at Edinboro University, Koscheck is no stranger to high levels of competition. On the reality show, Kos scored a major rating spike with his long running feud with housemate Chris Leben. As a taste of things to come when to two finally met in the Octagon, the show received its highest ratings to that point. Koscheck showed his inexperience to the game by taking Leben down repeatedly in a less than exciting bout, but also showed his promise with natural athletic ability. Since then Kos has become known as "The Sponge" at the American Kickboxing Academy thanks to his ability to learn new things and add new facets to his game on a regular basis. Though he has never been on a UFC pay per view before, Koscheck has grown with the fans on network television stopping Chris Sanford via KO, submitting Pete Spratt, Ansar Chalangov, and Jonathon Goulet. Kos has also scored impressive unanimous decisions over Jeff Joslin and former UFC middleweight champion Dave Menne. The defining moment in Koscheck career to this point came in the form of a loss to tough grappler Drew Fickett. Over the course of three rounds Kos slammed the jiu jitsu expert to the mat and was well ahead on the scorecards until getting caught with a homerun knee that knocked him out with just twenty-two seconds remaining in the fight. He handled the loss with the grace of a champion and has since won four straight.

How They Match Up

Whoever said that styles make fights must've had a long luncheon with UFC match maker Joe Silva because this one has classic written all over it.

Sanchez would be the clear favorite in this fight due to his seemingly unstoppable knack for finding action and getting the better of it. His controlled yet reckless style makes him a fan favorite and he should have a huge Southwestern fan base in attendance.

Koscheck on the other hand has had his own share of wars but has been well under the radar to most fans. Make no mistake about it, Josh Koscheck WILL BE the toughest fight of Sanchez's career to this point.

If anyone was a fan of Diego's bout with Parysian, get ready for more. We saw two twenty-something's leave it all in the cage. What made that fight great was each man's refusal to give in, and the case is the same here. This fight will be just as good and the difference lies in the background of the athletes. Parysian, a judo and submission expert, felt comfortable enough to stay on his back and look for openings. Sanchez is a fighter than thrives in the top position and wont settle for anything less. In that respect, these two men are the same fighter. The excitement and the determining factor of this fight will be which man can gain and maintain top control. Diego Sanchez and Josh Koscheck will fight tooth and nail for the high ground. Whoever can control that will win this fight.