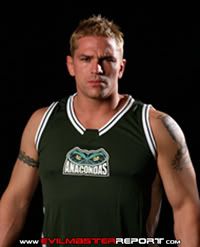 By Mike Doyle

Shawn Tompkins, the acclaimed London, Ontario striking coach who recently replaced his mentor Bas Rutten as coach of the International Fight League's Los Angeles Anacondas, is considering a return to mixed martial arts competition himself.

Team Tompkins Muay Thai and Submission" Academy in London has spawned such noteworthy fighters as Sam Stout, Chris Horodecki and Mark Hominick, while its leader had a brief foray into MMA in 2000 compiling a 0-4-0 record with losses at the hands of Steve Vigneault and David Loiseau.

The 31-year-old trainer was recruited by Dan Henderson earlier this year to help prepare The American for his Feb. 24 title bout with then-Middleweight Champion Wanderlei Silva. Tompkins has since moved to Temecula, California to take up residence as Muay Thai coach for Henderson's Team Quest gym – a move that would leave him with no shortage of top-tier training partners should he decide to make a comeback.

Tompkins says that if he decides to return to the fighting, he would do so within a year under the IFL banner.