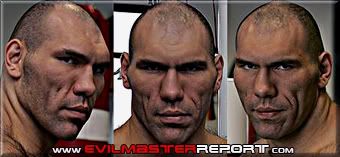 WBA heavyweight champion Nikolai Valuev feels he is "perfectly prepared" for his first mandatory title defense which is just seven days away. The Russian Giant (46-0, 34 KOs) will battle it out with Uzbek challenger Ruslan Chagaev (22-0, 17 KOs) in Stuttgart next Saturday. As always, he is brimming with confidence. "Everything has gone according to plan in practice," Valuev stated. "The two training camps in St. Petersburg and Kienbaum were pretty hard but very good. I am ready for Chagaev."

The biggest and tallest champion of all time holds an incredible 11-inch height advantage over his opponent. Yet he is certain not to underestimate him. "I take him very seriously. I never step into the ring without the right preparation. We watched him on tape and I also attended his fight against John Ruiz in Duesseldorf."

Valuev has completed his sparring preparations in Sauerland´s training camp base in Kienbaum (near Berlin) and will transfer to Stuttgart on Monday. A win over his unbeaten opponent would put him even closer to Rocky Marciano´s dream mark of 49-0. At 46-0 with 34 KOs, the 33-year-old Russian is making giant steps towards the record. "It would be a huge honour for me to break it," said Valuev. "Rocky Marciano is a legend. As is his fabulous record. Normally I don´t really care about stats or streaks but now that this historic mark is within reach, I really want get my name into the record books."

Coach Manuel Gabrielian, who once again put his fighter through exhausting training sessions, believes Valuev has a golden future ahead. "He has been getting better and better in the last year but he has not reached his peak yet," assessed the coach. "The best is yet to come. He will dominate the division."

Valuev received a special shot of confidence last month when his wife Galina gave birth to the couple´s second child, Irina. "It was just before I left St. Petersburg for Germany so the timing could not have been better," smiled the gentle giant. "It was an incredible feeling."

The Russian Giant also sent out a special Easter greeting to his fans. "I want to thank everyone for their tremendous support. Happy Easter to everyone."