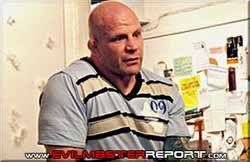 Kazuyuki Fujita vs. Jeff Monson is not just another match. Even though it is not a title match, nor is it a long-anticipated rematch, it is based on a personal vendetta that fans have clamored about for years: PRIDE vs. UFC.

With PRIDE.34 just around the corner, submission specialist Jeff "The Snowman" Monson discusses his thoughts and impressions on his training camp, on how to beat Fujita, and on the significance of his match as the first battle in a larger war.

PRIDE: How is your condition right now?
Monson: Good. I'm in really good condition.

PRIDE: You fight in 2 days. How do you feel now?
Monson: I had a good training today. I got over the jetlag now. I was working on having my sleep schedule changed before I came, so I feel good. I feel confident, healthy and ready to go.

PRIDE: What are your impressions of Fujita?
Monson: I think Fujita is a hard puncher. He comes in really good shape and good conditioning, and he's got a great heart. He kind of epitomizes what PRIDE is about, that warrior spirit. He comes in trying to win every match and put 100% into it, so I do think that he's a very tough opponent.

PRIDE: Can you share your game plan with us?
Monson: To be aggressive. I've been working with Howard Davis, my boxing coach. I'm going to come out aggressive and try to strike with him and push the pace and hopefully wear him down so I can catch him in a strike hopefully. If not, I can look for a submission.

PRIDE: So you actually plan to knock him out and you don't just want to finish him with a submission?
Monson: I think the fans are looking for an exciting fight. I think I'm a better striker than him. I've had some pro-boxing matches and I think I can hurt him boxing. That's my plan right now.

PRIDE: PRIDE vs. UFC starts with this fight. People are paying a lot of attention to this fight. What is the significance of this fight for you?
Monson: It's very significant because I feel honored that the UFC chose me to represent them against PRIDE, so I feel honored that they had the confidence in me to represent them well. I feel excited about the opportunity, and I know that a lot of fans throughout the world are going to watch this in anticipation. I'm putting a lot of pressure on myself to do well, and I'm expecting to do my best.

PRIDE: I'm sure that people are looking forward to seeing your exciting fight. Do you want to have a KO or submission at a very early time of the first round?
Monson: Fujita is a tough guy I know that he has a hard head and I'm going to have to wear him down a little bit, and come after him very hard and strong. I think it'll most likely be later in the fight before I knock him out.

PRIDE: Are you confident of the fact that UFC is better than PRIDE?
Monson: That's the great debate. I feel fond of the UFC, and the fans always debate over who is the better organization, but as a fighter representing UFC, I think UFC has the better fighters. They picked me to represent them and prove that, so that's my intention.

PRIDE: If Mr. Fujita is right in front of you, what would you want to say to him?
Monson: I have respect for him, because he's got a good heart and his coming to fight. I respect the fact that he's willing to step into the ring with me, but he better bring his best because it's going to be very difficult for him to win.

PRIDE: Would you please give a message to the fans?
Monson: This is Jeff Monson. I appreciate you guys watching PRIDE.34. I'm here to tell you that I'm going to knock out Fujita and do the UFC proud.