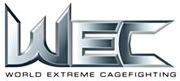 By Ivan Trembow

All of the drug tests that were administered at WEC 26 in Las Vegas late last month have come back negative for all banned substances.

The Nevada State Athletic Commission tested eight of the twenty fighters who competed on the card. The eight fighters who were drug tested were Urijah Faber, Dominic Cruz, Carlos Condit, John Alessio, Chase Beebe, Eddie Wineland, Alex Serdyukov, and Scott Norton.

All eight of those fighters' urine samples did not contain any banned substances, including steroids, stimulants, and recreational drugs. The remaining twelve fighters on the card were not drug tested.

The event took place on March 24th and was the WEC's second show since being purchased by the Fertittas, who also own the UFC and Pride

The drug test results from WEC 26 are a notable improvement from WEC 25, where two of the six drug-tested fighters failed their drug tests. While Urijah Faber, Rob McCullough, Rich Crunkilton, and Mike Joy all passed their drug tests at WEC 25, Kit Cope tested positive for the anabolic steroid Boldenone (frequently used by veterinarians to rehabilitate injured horses), and Joe Pearson tested positive for Delta 9 THC (the active ingredient in marijuana).