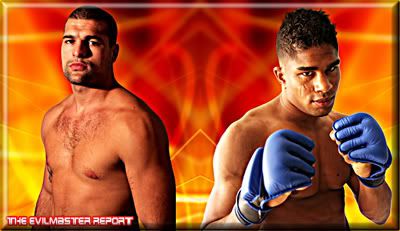 Additional fight card announced for the February 24th event in Las Vegas
Shogun VS Alistair's revenge match

An additional fight card was announced for PRIDE.33 "THE SECOND COMING", scheduled to be held in Las Vegas, Nevada on Saturday, February 24th (local time). What was announced was a revenge match between Shogun, who will be making his second consecutive appearance in Las Vegas PRIDE, and the revenge-thirsty Alistair.

Mauricio Shogun (Brazil/Chute Boxe Academy)
VS
Alistair Overeem (Holland/Golden Glory)

The young Middleweight rivals will clash once again! When they first fought at the semi-finals of "PRIDE Final Conflict 2005" held on August, 28th 2005, Shogun delivered a ground-and-pound attack, defeating Alistair in the first round at 6 minutes 42 seconds. Alistair himself came close to gaining the upper-hand with his front choke.

Excluding the match between Coleman at the Open Weight tournament, Shogun has already secured 11 wins, following closely behind Wanderlei. At last year's Las Vegas event in October, he fought against Kevin Randleman. Shogun, who is believed to be more skilled at takedowns rather than strikes, exhibited his strength to take down Randleman, finishing him off with an intense knee bar. He proved himself to be one step closer to attaining complete strength.

On the other hand, while Alistair created a great sensation at the 2005 Middleweight GP, he currently stands even with a 6 win 6 loss PRIDE record. A loss at the upcoming match against Shogun will tarnish his record. In fact, his last two matches were both revenge matches, but Alistair was defeated by both Arona and Rogerio while trying to avenge his previous defeats. Will the third time be the charm or, as the saying goes, will what happens twice happen thrice? Alistair's true ability will be put to the test.