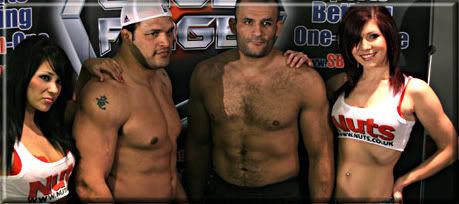 By Stash Capar

LONDON, Feb. 9 --- The Wembley Plaza was brimming with burly athletes today for the official weigh-ins for Cage Rage 20 "Born 2 Fight," scheduled for the Wembley Arena tomorrow night.

All fighters made their requisite weights spare heavyweights Tengiz Tedoradze and Rob Broughton, who were stuck in London's rush hour traffic and could not make it to the scales in time. Ironically, Tedoradze and Broughton are scheduled to face each other tomorrow for the Cage Rage British Heavyweight Title. For now, the match-up is still scheduled to go forward.

CAGE RAGE 20 WEIGH-IN RESULTS
Eric "Butterbean" Esch (397 lbs) vs. James Thompson (264.5 lbs)
Mark Kerr (275.5) vs. Mustafa Al Turk (247)
Tengiz Tedoradze (NA) vs. Rob Broughton (NA)
Dan Severn (264.5) vs. Dave Legeno (236)
Francis Heagney (166.) vs. Lee Doski (170)
Jack Toczyelowski (168.5) vs. Jason Barrett (167.5)
Ronnie Mann (145) vs. Ashley Grimshaw (145)
Marios Zaromskis (166.5) vs. Damien Riccio (168)
Mazakazu Imanari (145) vs. Robbie Olivier (145)
Tom Howard (247) vs. Tom Blackledge (242.5)
Mark Buchanan (236) vs. Robert "Buzz" Berry (247)
Daijiro Matsui (184) vs. Tom Watson (183)

When Eric "Butterbean" Esch and James "The Colossus" Thompson were called up to the scales, a sudden silence overtook the room, but was almost immediately replaced by applause as the giants stared each other down.

Cage Rage 20 "Born 2 Fight" will take place tomorrow at London's Wembley Arena.