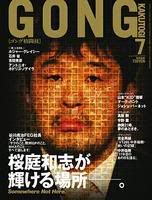 Perhaps the week's most stirring news surrounds the arrest of Daisaku Maeda, the president of Nippon Sports Publishing Co., Ltd. Included in Nippon Sports' magazine publications is Gong Kakutougi, a monthly magazine which has emerged as the gold standard of print media regarding fightsport in Japan.

Maeda was arrested earlier this week after being implicated in the crimes of yakuza gang leader Yoshio Shimomura, which violated Japan's Civil Rehabilitation Law. Shimomura, who is currently under arrest for fraud, is a former Kodo-kai gang leader, a branch of the Yamaguchi-gumi, Japan's largest crime syndicate. In recent years, Shimomura has become more noted for his business endeavors, as he's been involved in the buying and selling of multiple companies.

Maeda, a respected business manager who holds a multitude of high ranking corporate posts, played a role in the latest of Shimomura's criminal exploits, serving as the President and CEO of Advanced Technology and Systems Co., Ltd, or ADTX, a company specializing in the manufacturing and marketing of computer peripherals. Shimomura then purchased a controlling stake in Yubitoma from the ADTX president, before trying to sell the firm to the computer service company in late October.

Shimomura is now under investigation for allegedly concealing the assets of ADTX, who were declared bankrupt by a Tokyo court this past January. Metropolitan Police Department investigators have expressed concern that the concealed assets, as well as any monetary gains made from Shimomura's other buy-and-sell deals with firms may have been channeled into the criminal world.

Following an emergency executive meeting, Nippon Sports Publishing Co., Ltd. offered a public apology, in which they announced with little surprise that Daisaku Maeda was dismissed from his position. While Nippon Sports Publishing Co., Ltd. was investigated due to its association with Maeda, there were no instances of criminal activity found regarding the company.

No replacement for Maeda has yet been named to the Nippon Sports Publishing Co., Ltd. executive, and it is unclear what impact, if any, these events will play in the monthly publishing of Gong Kakutougi, which is coming up on its 180th issue.