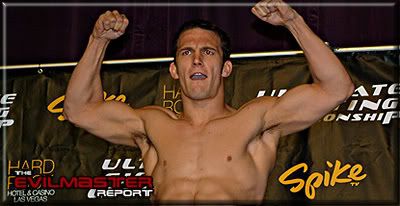 As previously reported in this column, Shooto Pacific Rim 167-pound champ "K-Taro" Keita Nakamura will in fact make his second appearance in the Octagon this coming April. Coming off of a hotly competitive decision loss to Brock Larson in his UFC debut this past December, "K-Taro" will meet Drew Fickett on April 5 when the UFC hits The Pearl in Las Vegas, Nevada.

It was speculated some weeks ago that Nakamura would make a return to North America's largest promoter in the coming months, as he was offered a title match with Shooto world middleweight champion Shinya Aoki for Sustain's Feb. 17 Shooto card. However, Nakamura declined the championship offer, saying that he wanted to focus on fighting in the UFC again, leading to the forecasting of his participation on the April 5 card, alongside fellow Japanese competitors Dokonjonosuke Mishima, Kuniyoshi Hironaka and Naoyuki Kotani, who are also scheduled to compete on the card, against Kenny Florian, Jeff Joslin and Thiago Tavares, respectively.

Contributing some measure of his loss to being vastly outsized by the hulking Larson, Nakamura has since dedicated himself to getting bigger and stronger in the weight room, in order to more adequately compete in the UFC's hyper-physical 170-pound class.

Nakamura is now hovering in the range of 183 pounds with 14.4 percent bodyfat, and hopes to continue to add more muscle to his lean frame, so that after trimming his fat weight in training (he hopes to step into the cage at around 9 percent body fat), he can be a more physically imposing force than we've seen in the past.