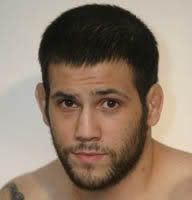 By Thomas Gerbasi

A member of the first United States Marine unit to cross the line of departure into Iraq to begin Operation Iraqi Freedom, Luigi Fioravanti knows something about combat and about pressure. So when he stepped into the Octagon to face former middleweight champion Dave Menne last December in a must-win fight for him, he was ready.

And like his stint in combat fighting for his country, he also had a little help – 3,000 Marines that screamed and cheered for him as he now fought for them.

"It was amazing," said Fioravanti about the experience of fighting at the Marine Corps Air Station Miramar. "You could tell walking out to the ring that they were all on your side just because you're part of the same fraternity. Them chanting and rooting for me was very exciting, and after the fight I was pretty emotional and excited, and I couldn't really even speak."

Between the nerves of entering the Octagon and the elation of the post-fight reaction, Fioravanti looked unstoppable against Menne, hurting him early and often before stopping him with 16 seconds left in the first round. It was a huge statement for the welterweight prospect, and it pushed him over the .500 hurdle in the UFC as he improved to 2-1 in the Octagon and 11-1 overall.

The victory also removed the question marks surrounding the Floridian, who looked listless in a three round loss to Chris Leben in his UFC debut and spectacular with a one punch knockout of Solomon Hutcherson in his second Octagon bout. Which fighter was the real Fioravanti?

"Everybody's like 'what happened in that fight (against Leben)?' and I had separated ribs, but I didn't want to pull out of the fight," he admits. "I had hurt myself in training, I needed the money, and I didn't want to pull out."

He was also juggling his budding fighting career with a job working security in a local bar. Against Leben he found out that juggling the fight game with work in the smoky bar atmosphere wasn't going to work for him.

"I'm in the UFC now and fighting better and better guys with each fight and I needed to start training a lot more hours and a lot more days to prepare myself for these fights," said the 25-year old. "I had to get away from that bar atmosphere, that cigarette smoke. It was draining there because people out in society don't have the same kind of drive and discipline to succeed in what they do. They're kinda like leeches."

Disgusted with the loss to Leben last April, Fioravanti healed up and took two fights in June on short notice, decisioning Stephan Potvin and then blasting out Hutcherson in the first round two weeks later.

"I took the next two fights after that Leben fight on short notice because I just wanted to get back in there and better myself," he said.

By the end of the summer, Fioravanti threw caution to the wind and became a full-time fighter. He's won twice since, stopping Hidetaka Monma in a September fight in Tokyo, and then scoring the biggest win of his two year career over Menne. He's on the fast track now, with no turning back as he enters his UFC 68 fight against highly-regarded contender Jon Fitch.

"It's a big step for me, but I'm not too worried about the outcome of the fight," said Fioravanti. "I plan on winning the fight, but for me to not get stressed out, I don't think about winning or losing, I just let it flow."

And with the dynamite he's got packed in his gloves, he's got a chance against anybody.

"If he stands there and trades with me, I'm gonna come out the victor," he says matter-of-factly. "A lot of guys aren't confident enough to throw their hands, but I'm just gonna throw with the idea that if I hit you, you're gonna go to sleep. I plan on working my gameplan and imposing my will on him, and then we'll see what happens."

If Fioravanti wins on March 3rd, he instantly becomes a player in the crowded 170-pound weight class. He loses, and hey, its okay, he's been in worse situations than having to come back from a loss in an athletic contest. He's been to war, and to him, fighting is "definitely less stressful," which means he can go into the Octagon against anyone and just let his hands go, because everything from here on out is gravy.

"I look at it like I'm coming in as the underdog," he said. "Take the last fight - the guy had a lot more fights, more experience, he was a former UFC champion, so in my head I had to put everything on the line because I've got nothing to lose. I've only been doing this for two years and only full-time since August of 2006. So every time I step in there, it just gives me more confidence.