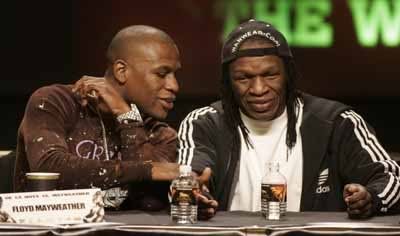 By Kevin Iole

After nearly six years of frequently vitriolic rancor between them, Floyd Mayweather Sr. walked in and quietly embraced his son on Tuesday.

"What's up, baby," Mayweather Jr. said inside his suite as he patted his father on the back 30 minutes before a raucous news conference in the hotel lobby to promote his May 5 super welterweight title fight against Oscar De La Hoya at the MGM Grand.

The elder Mayweather had trained De La Hoya since 2001, but he opted last month to turn down Mayweather Sr.'s demand for $2 million to train him for the fight. He instead hired Freddie Roach.

The younger Mayweather, who was taught to box by his father but has been trained since their split by uncle Roger Mayweather wouldn't commit to using his father as his trainer.

But as he stood at the podium, he seemed to indicate that he would.




He turned to De La Hoya at his right and said, "You said you talk to my father every morning. Are you sure? Do you want to ask him?"

As the crowd of several hundred roared its approval at the unexpected twist, Mayweather Jr. said, "Don't worry. He may not have a front-row seat. He may be in the corner, but not in your corner."

Mayweather Sr. said before the news conference that he had not been asked by his son to train him but indicated he would do so if asked. He said money wasn't an issue with his son.

He also said he could work with Roger Mayweather, saying, "He's my brother, and that's my son. I will do what is best for Little Floyd. It's up to my son."

De La Hoya offered Mayweather Sr. a flat fee of $500,000 and a bonus of $500,000 if he won, which the elder Mayweather declined. De La Hoya hired Roach for $650,000, with the promise of a $650,000 bonus if he wins.

"In all honestly, I'm glad it didn't happen," Mayweather Sr. said of training against his son. "It wasn't about the money. If he gave me the money, I would have taken it, because it was a chance for me to live my life better. But I wasn't going to do it for a half-million. I wasn't going to do it for a half-million when I already got more than a half-million sitting there. I'm not worried about that.

"If my son doesn't want to pay me anything, that's fine, because that's my kid. That's fine. I just turned my money down when I turned De La Hoya down. If I turned that money down, I'm not going to worry about it."

Mayweather Jr. ridiculed De La Hoya's boxing acumen and said Mayweather Sr. was having trouble getting De La Hoya to learn. Mayweather Jr. called himself a boxing prodigy and said his father taught him from his earliest days how to fight.

He said he would beat a five-star De La Hoya "with my D-plus game" and said having his father with him is a bonus.

He said he got into a heated exchanged with De La Hoya about Mayweather Sr. earlier in the nine-day, 11-city promotional tour, which ends today in Los Angeles.

"We've had our ups and our downs, but at the end of the day, he's still my father," Mayweather Jr. said. "The thing I told him (De La Hoya) was, there's no way Freddie Roach is a better trainer than my father. He said, 'Your father called me every day.' I was like, 'Dude, you cannot run mind games on me.' I know what type of man my father is. My father's a stand up-type dude.

"Even if we had differences in the past, no matter how it was said or done, someday my father may have to bury me or I may have to bury him. It's down to my last fight, and the truth is, my daddy's a hell of a trainer, one of the best in the business, and Freddie Roach don't come close to him."

(Source)