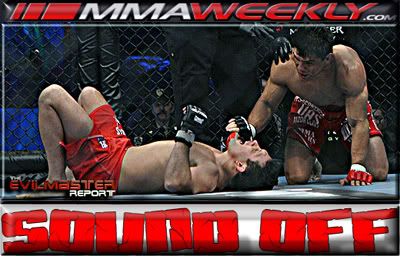 There has been a mountain of controversy following Saturday night's EliteXC premier on Showtime. At the heart of that controversy is Frank Shamrock. He was disqualified for successive illegal knees to the head and neck area of Renzo Gracie in the main event of the show. But much more than the blows to Gracie's cranium, it has been Shamrock's post-fight reaction that has garnered most of the controversy.

"I screwed up. Like I said, I thought we were fighting. If it had been me, I'd have super-glued my face back together and got in there and fought," was Shamrock's comment in a post-fight interview with MMAWeekly.com, both accepting it was his actions the brought the fight to a halt and seemingly frustrated that Gracie would not or could not continue.

Regardless of controversy that whirls around him, Shamrock isn't one to back down from the maelstrom, but in fact, embrace it. He steps up tonight to SoundOff with Damon & Jeff on MMAWeeklyRadio.com, LIVE at 6pm PT / 9pm ET.