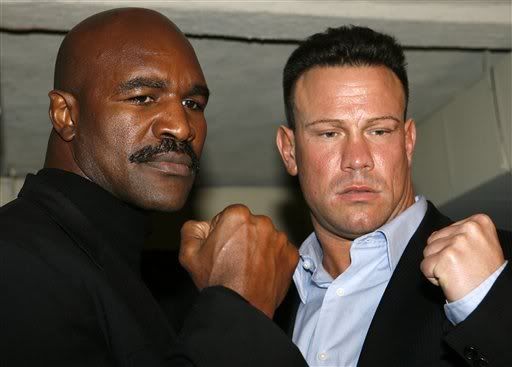 By Melissa Murphy

NEW YORK (AP) -- Evander Holyfield is trying to do more than become the first five-time heavyweight champion. At 44, he's trying to show he's still a force, less than three years after New York boxing officials revoked his license because of "diminished skills and poor performance."

"I want to be the two-time undisputed heavyweight champion," Holyfield said Tuesday at a news conference at a Manhattan barbecue restaurant.

Holyfield began his comeback last year with two wins, and will next fight New Yorker Vinny Maddalone on March 17 in Corpus Christi, Texas.

Holyfield (40-8-2, 26 KOs) looks at the non-title fight -- his third as a pro in Corpus Christi -- as part of his effort to unify the heavyweight titles and retire in 2008.

"I've been shooting for this goal ever since 1993," he said.

It's been nearly 17 years since he held the undisputed title when he defeated James "Buster" Douglas -- the holder of the IBF, WBC and WBA crowns -- in three rounds.

He's defeated 16 world champions, including bouts with Mike Tyson, George Foreman, Riddick Bowe and Larry Holmes. Perhaps his most famous bout was in 1997, when Tyson bit Holyfield's ear.




What is Holyfield's incentive, after earning four titles and up to $20 million a fight?

"Whether I'm going to fight for a $20 million fight or a $50 dollar fight or just the sparring section, I'm going to give quality," Holyfield said. "It's about the performance."

"My mother taught me you have to have a beginning and you have to have an end," he added. "She said, 'What is your end? I said 'My end is to be the undisputed heavyweight champion of the world.' In 35 years of me boxing, I'm just trying to end like I'm supposed to."

A loss to Larry Donald in November 2004 prompted New York officials to shut him down. Holyfield received a medical suspension that stopped him from fighting anywhere in the country, but it was later changed to a New York State ban.

"Unfortunately, someone in New York, the commissioner, wrote a letter and suspended me," Holyfield said. "He said that my performance was so bad that he had to protect me from myself."

How does his family feel about his return to the ring?

"I can tell you what I think because I don't ask them that question," he said. "I would think that they know that there's nothing I'm going to do that I'm not going to prepare myself for."




Maddalone (27-3, 19 knockouts) is a 33-year-old brawler who has stopped 14 opponents within the first two rounds. He said he's not afraid to mix it up with Holyfield.

"He's been hit by great guys," Maddalone said. "The chin's there, but I'm just going to try to wear him down. He's slowed down, he's a little bit older. He's not the Holyfield he was 15 years ago."

Maddalone got the boxing bug at 18 when he entered a toughman competition while at Pfeiffer College in North Carolina.

"I fought three times in one night, I won all three fights," he said. "That was the taste right there."

Holyfield said he's recovered from shoulder problems that required surgery. In November, he won a 12-round unanimous decision over Fres Oquendo in San Antonio. He began his comeback three months earlier with a second-round knockout against overmatched insurance salesman Jeremy Bates in Dallas.

Last month, Georgia Gov. Sonny Perdue appointed Holyfield to the state's commission on men's health.

"The message I'm trying to give out is ... you're only as good as your health," Holyfield said. "It doesn't make no difference how much money you have, if you aren't healthy, you're not going to enjoy it anyway."