By Brian Knapp

All twenty-two competitors hit their mark today for tomorrow night's International Fight League event at the Gwinnett Center.

ATLANTA, Feb. 22---His granite hands in tow, Robbie Lawler stepped on the scales today at Knuckle Up Fitness and weighed in a lean 183 pounds for his International Fight League middleweight Superfight with Eduardo Pamplona. The main event participants on an 11-fight card Friday at the Arena at Gwinnett Center (start time is 7:30 PM EST) stared stoically at one another following the weigh-in, clasped hands briefly and parted ways.

A rising Brazilian fighter making his American debut, the heavily tattooed Pamplona tipped the scales a pound heavier than Lawler. The bout seems destined to generate fireworks between the two middleweights. Some have compared Pamplona and his blend of striking and submissions to fellow countryman Wanderlei Silva – high praise for a man with only six MMA fights to his credit.

The IFL's third event this year pits Matt Lindland's Portland Wolfpack against Carlos Newton's Toronto Dragons and Renzo Gracie's New York Pitbulls against Igor Zinoviev's Chicago Red Bears. The Chicago squad is making its IFL debut.

Another anticipated middleweight fight features Toronto's Brent Beauparlant and Portland's Matt Horwich. A veteran of 26 MMA bouts, Horwich has been thrust into a leadership role with the Wolfpack. The lone holdover from the 2006 team, Horwich weighed in at 184 pounds. Beauparlant, meanwhile, is moving down to middleweight from light heavyweight and weighed in at 182.5 pounds.

Elsewhere, former jiu-jitsu world champion Delson Heleno weighed in at 168.5 pounds for New York, while his opponent, Chicago's Mark Miller, came in a pound heavier (169.5). Their bout appears to be a clash of styles, as Heleno will likely utilize his superior grappling skills and attempt to bring striker Miller to the ground.

Heavyweights had their moment in the sun, too. Toronto's Rafael Feijao (229.5) will surrender 10 pounds to his opponent, Portland's Devin Cole (239.5). The match-up will feature two exceptional grapplers, Feijao a Brazilian jiu-jitsu black belt and Cole a former All-American wrestler at Southern Oregon University.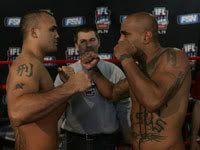 Dragons (Toronto) vs. Wolfpack (Portland)

155: Wagnney Fabiano (154.5 lbs) vs. Ian Loveland (153 lbs)
170: Jim Abrille (170.5) vs. Mike Dolce (169)
185: Brent Beauparlant (182.5) vs. Matt Horwich (184)
205: Wojtek Kaszowski (204.5) vs. John Krohn (202)
265: Rafael Feijao (229.5) vs. Devin Cole (239.5)

Red Bears (Chicago) vs. Pittbulls (New York)
155: Peter Kaljevic (152.5 lbs) vs. Erik Owings (153.5 lbs)
170: Mark Miller (169.5) vs. Delson Heleno (168.5)
185: Chris Albandia (184) vs. Fabio Leopoldo (184.5)
205: Tim Kennedy (203) vs. Dante Rivera (201.5)*
265: Mo Fowzi (214) vs. Bryan Vetell (261.5)

Superfight
185: Robbie Lawler (183) vs. Eduardo Pamplona (184)

* Tim Kennedy (Chicago) is replacing Armin Mrkanovic at 205. Mrkanovic was unable to compete after suffering a knee injury. Kennedy has trained under John Hackleman and The Pit Fight Team in San Luis Obispo, Calif.