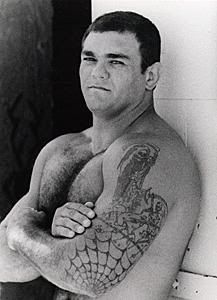 Ultimate Fighting Championship and Extreme Fighting veteran heavyweight, Marcus Silveira, is set to make his MMA return on March 31st at the James L. Knight Centre, in Miami, Florida, at the Panther Fight League's debut event. The 42 year old Silveira (5-4) will be competing for the first time since 2002, when he lost to Wes Sims by TKO at Hook N Shoot's Absolute Fighting Championship 1. The American Top Team fighter is perhaps best remembered for his battles with Maurice Smith, as Silveira went 3-0 to begin his MMA career until losing to Smith by KO at Extreme Fighting 3 in October of 1996. Silveira later avenged that defeat, submitting Smith with an arm triangle choke at World Extreme Fighting 7 in October of 1999. His encounter with Kazushi Sakuraba at UFC Ultimate Japan 1 in 1997 will also not be soon forgotten, as Silveira was submitted by the future Japanese super-star with an armbar in the first round.

His opponent will be Johnathan Ivey (25-31), who despite his losing record has won 7 fights in a row, with his only loss in his last ten fights coming to the undefeated Jake O'Brien. Ivey has been fighting professionally now for nearly ten years, and has competed against some of the sports more notable fighters, including Ben Rothwell, Travis Wiuff, Justin Eilers, Dan Severn, and Jeremy Horn.

Panther Fight League 1: "Genesis" has 11 fights currently scheduled for the upcoming March 31st event, and the website is also reporting that Tim Sylvia, Rich Franklin and Sean Sherk will be in attendance. Prior to the event at 5:30, the three fighters will be available for autographs. A portion of the event's ticket sales will go to the Breast Cancer Research Foundation and the National Alliance for Research on Schizophrenia and Depression.