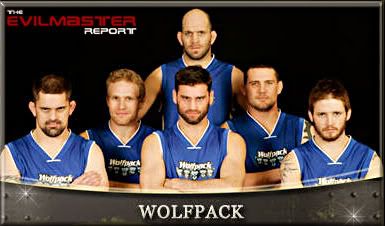 By Kelsey Mowatt

The International Fight League's latest event will take place this Friday, February 23rd, in the Arena at the Gwinnett Centre, in Atlanta . The card will feature the Portland Wolfpack taking on the Toronto Dragons, while the Chicago Red Bears will make their IFL debut against the New York Pitbulls. The Matt Lindland coached Wolfpack will take to the ring with three new team members, a new look for the club that competed and lost to the Silverbacks in the IFL Championships last year.

Ian Loveland will take over the lightweight spot on the roster, replacing Ryan Schultz who lost his last two IFL fights against highly regarded fighters in Chris Horodecki and Bart Palaszewski. Loveland , who also trains at Team Quest, carries a combined pro-am record of 13-4 and has won three fights in a row. Most recently Loveland defeated CJ Thompson with a first round rear naked choke at Sport Fight 18 on January 6th. The Gresham resident's current winning streak is a nice reversal for the fighter, as prior to that he had lost three fights in a row. Before turning pro in September of 2005, Loveland was undefeated in 7 amateur bouts. His opponent will be Brazilian Jiu-Jitsu black belt Wagnney Fabiano, who has a record of 4-1. Fabiano has defeated such notable opponents as Matt Fiordirosa and Tommy Lee, with his only loss coming via a split decision to Pride and UFC veteran Jeff Curran.

The Wolfpack will have to make due now without Chris Wilson at welterweight, as the promising fighter has decided to explore other options for his career. The Team Quest fighter captured headlines at the IFL Finals in December, when he stopped highly regarded Silverback, Rory Markham. Taking Wilson 's place will be Mike Dolce, who has a combined pro-am record of 3-3, and most recently defeated Mitch Whitesel by unanimous decision at Ring of Combat 12 in November. Prior to that at Sport Fight 17 last August, Dolce worked his way to a unanimous decision victory over Josh Burnham. The 2-1-1 Jim Abrille will be Dolce's opponent, who is replacing the Dragon's injured Claude Patrick.

The other new addition for the Portland team is John Krohn, who carries a 4-1 amateur record. Krohn, who is the team's new lightheavyweight, replacing Aaron Stark, has won 3 fights in a row. In his last bout, the fighter submitted Reno Backstable with a first round rear naked choke at Sport Fight 17 last August. Prior to that, at Sport Fight 15 last April, Krohn defeated Chris Trammel by unanimous decision. His opponent will be Wojtek Kaszowksi, who will be making the move to 205 pounds from heavyweight for the Dragons. The Canadian fighter has gone 0-4 to start his MMA career, most recently being submitted with a keylock by Ben Rothwell last November.

The only two fighters that remain on the Wolfpack roster from last year's club are veteran middleweight Matt Horwich (18-8-1) and heavyweight Devin Cole (pro-am 12-4). Horwich will take on former Canadian National Team wrestler Brent Beauparlant (4-3). In his last fight at the IFL finals in December, Horwich lost by unanimous decision to Ryan McGivern. Prior to that, at the IFL's semi-finals last November, Horwich submitted Mike Pyle in the second round with a rear naked choke. The veteran Team Quest fighter holds notable victories over Jason Macdonald, Vernon White, and Krzysztof Soszynski, and has competed against the likes of Travis Wiuff, Jason Lambert and Trevor Prangley.

Cole will be looking to end a three fight losing streak, which has seen the fighter defeated by Allan Goes, Krzysztof Soszynski, and most recently Ben Rothwell at the IFL finals. Prior to that, Cole won three fights in a row, beating Mike Kyle, Carlos Cline and Travis Wiuff. In professional action, the Oregon native is 6-4, while he went undefeated in six amateur bouts.

In addition to the team match-ups, Friday night's IFL event will also feature a middleweight super-fight between Robbie Lawler (12-4) and Eduardo Pamplona (5-1).