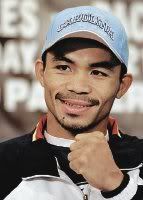 PACQUIAO BOUT SHIFTED TO SAN ANTONIO, MOVED AHEAD TWO WEEKS

The particulars of Manny Pacquiao's next fight keep changing, but a report in Monday's Manila-based Philippine Star states that the Super Featherweight superstar will not be fighting Korea's In Jin Chi in Macau, China on April 28th, but rather Mexico's Jorge Solis two weeks earlier in San Antonio, Texas.

The reason behind the shift in dates is that, according to the Star's Abac Cordero, Pacquiao has his sights set on running in elections slated for May 14th in the Philippines.

Pacquiao, who was recently sworn in as a member of the Philippine's Liberal Party, is reportedly mulling over vying for the position of Mayor of his hometown of Gen. Santos City, or for the city's congressional seat.