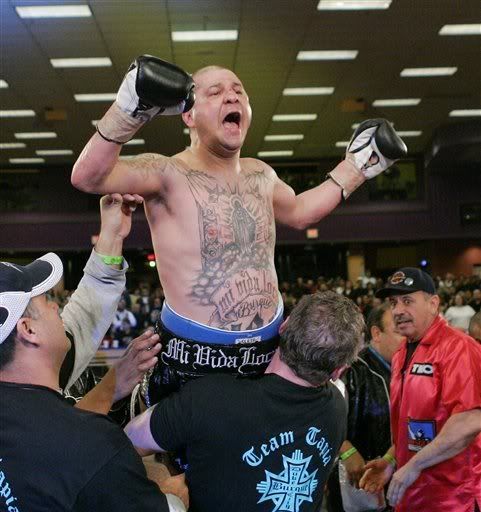 ISLETA PUEBLO, N.M. -- Five-time world champion Johnny Tapia, no longer the relentless, ring-savvy battler he once was, scored a majority decision Friday night over little known Evaristo Primero in what Tapia said would likely be his final fight.

"This is how I wanted to go out, fighting a tough fighter," said Tapia. "It's a beautiful thing to retire in Albuquerque."

Tapia, who turned 40 earlier this month and was fighting for the first time in nearly a year and a half, landed enough punches to get the win against an opponent who 10 years ago likely wouldn't have lasted three minutes against Tapia, much less take him the
distance in the 10-round junior welterweight fight.

One judge scored it 98-92 for Tapia and the other had Tapia ahead 96-94. The third judge called it a draw.

Moments later Tapia tried three times to pull off a backflip, one of his signature moves of the past. Each time he missed the landing, coming up short and landing on his knees.

It mattered little to the sellout crowd of 3,000 packed into an Indian casino to watch the state's most popular fighter.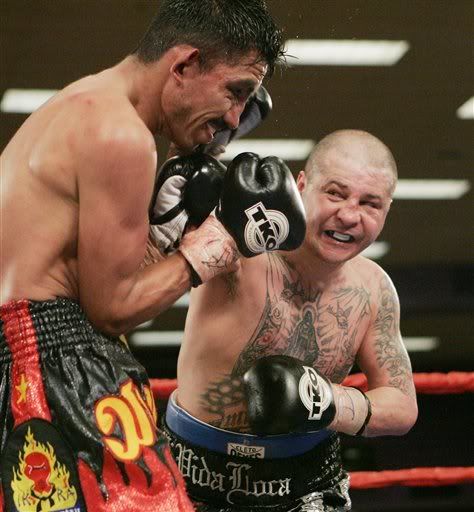 Primero, from El Paso, Texas, never posed a threat to Tapia (56-5-2), but he made it interesting. Bleeding from a cut above his right ear, the 29-year-old repeatedly traded punches with Tapia.

As the final seconds ticked off, Primero (14-10-1) -- without a win since October of 2001 -- motioned to Tapia to bring it on.

Primero believed he had won the fight and while paying tribute to Tapia as a "courageous champion" endorsed retirement for him.

"He's not the fighter he used to be. He's old," Primero said.Then borrowing from the title of Tapia's recently released book ("Mi Vida Loca"), Primero added: "For the sake of his crazy
life, he needs to retire. He's going to get hurt." Just getting an opponent turned into an adventure.

Billed as Tapia's "Final Fury," it turned into a fiasco of musical chair opponents long before the first bell rang.

Tapia initially was supposed to fight Ilido Julio (35-10-1) of Colombia. When Julio failed his physical late Thursday, promoter Lenny Fresquez got Paulino Villalobos of Veracruz, Mexico.

Tapia's camp rejected Villalobos and his dubious record of 26-35-1, and Alberto Cepeda of Juarez, Mexico, became Tapia's third designated opponent -- for about an hour.

Cepeda was replaced by Primero, who was supposed to fight a six-round, exhibition bout but suddenly found himself in the main event.

Fresquez declined to discuss the different lineups."That's boxing," was his only response.

"I went through several opponents and got a good one at the last," Tapia said. "He was ready, but I was in good shape to take whatever he brought."

(Source)