By Al Yu

…dis·as·ter-noun
A calamitous event, esp. one occurring suddenly and causing great loss of life, damage, or hardship, as a flood, airplane crash, or business failure.

Operating under financial turmoil, DSE continued forward with their second U.S. show in hopes to make a further impact in a market currently dominated by the UFC. Pride 33: The Second Coming produced many exciting fights and was easily one of the best events of the year. Of the nine scheduled fights, only one went to a decision. So why was it a disaster?

What makes an organization is its stable of fighters. Pride's large roster consists of some of the best fighters in the world. Any time a marquee fighter loses, it can have an adverse affect on an organization. In this case, four of Pride's stars faltered on a crucial night for the Japanese organization.

2006 Welterweight Grand Prix winner Kazuo Misaki dropped a decision to the resurging Frank Trigg. Misaki wasn't able to defend Trigg's takedowns and remained relatively inactive from his guard.

Antonio Rogerio Nogueira was knocked by relatively unknown Rameau Thierry Sokoudjou just 23 seconds into the first round. Considered by many as the next in line for the Pride Middleweight belt, the shocking loss derailed the Brazilian Top Team fighter's momentum.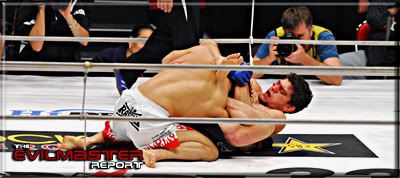 In the most intriguing match of the night, Lightweight Champion Takanori Gomi and former UFC welterweight Nick Diaz produced an exciting fight in their non-title bout. After gaining the advantage early on, Gomi was unable to get past Diaz's reach and was seemingly exhausted at the end of the first round. Diaz continued to use his size and reach to frustrate Gomi on their feet, causing the champion to go for a takedown. Once in Diaz's guard, Gomi fell victim to a gogoplata, forcing the Team Rascal fighter to tap.

Did I ever mention that I dislike non-title matches?

The inane non-title fight reared it ugly head again, this time in a very devastating fashion. Having openly stated that he intends to challenge the best fighters in the UFC, Gomi's loss to Nick Diaz was a huge setback. UFC pundits will view Gomi as a fighter who couldn't beat a former Octagon veteran and the defeat couldn't come at a worse time. Pride dodged a bullet when Gomi destroyed Mitsuhiro Ishida at Shockwave 2006 in a non-title bout but history has repeated itself this past weekend. For Diaz, he is now a champion without a crown. Expect Pride to schedule a rematch later this year.




Team Quest's Dan Henderson dealt a devastating blow to Pride by knocking out long reigning Middleweight Champion Wanderlei Silva. DSE hoped to continue promoting Silva as the man who would dethrone UFC Light Heavyweight Champion Chuck Liddell but it's highly unlikely the match-up will materialize any time soon. The opening highlight video hyped Wanderlei with phrases such as "Is he a god?" and "Is he the devil?" He was neither. Dan Henderson turned out to be more than just a stepping stone. Although Silva has fallen, it's still possible to push Dan Henderson or Mauricio "Shogun" Rua into the spotlight. A potential match-up between Liddell and Rua is very intriguing.

Ed Fishman's recent comments further add to the chaos for DSE. The President of Pride USA issued a challenge to the UFC to put each organization's top two fighters in each of the four weight classes against each other in a best-of-eight "Winner Take All" format. Both companies would put up $20 million and the first organization to win 5 of the 8 bouts would take home the $40 million prize. After Saturday night, I believe laughter could be heard somewhere in Las Vegas and the voice had an uncanny resemblance to that of Dana White.

So can things get any worse for Pride? We will found out in about a week.




When it Rain, it Pours.
The fallout from Yoshihiro Akiyama's greasing scandal continues. It appears that Shi Sei Do, a cosmetic company, has cancelled the Judoka's TVCF contract due to an overwhelming amount of complaints and protest by the Japanese public. Coupled with the rumor that K-1 has/intends to relieve him of his services, Akiyama's future career in MMA looks rather grim.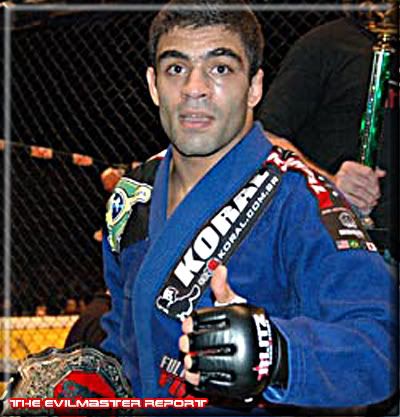 Long Overdue
Vitor "Shaolin" Ribeiro will finally make his debut in a major organization. With an impressive record of 17-1, the former Shooto Champion is scheduled to face Ryuki Ueyama at K-1 Hero's Nagoya Rainbow Hall show on March 12th. The addition of Ribeiro should bolster Hero's lightweight division.

Fights scheduled so far:
Ali Ibrahim vs. Caol Uno
Kazuyuki Miyata vs. Black Mamba
Hiroyuki Takaya vs. Andre Dida
Vitor "Shaolin" Ribiero vs. Ryuki Ueyama
Katsuhiko Ngata vs. Hideo Tokoro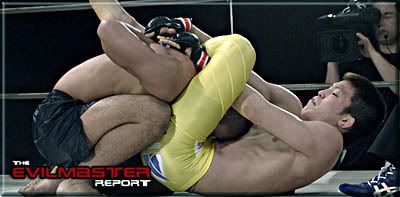 Baka Survivor
Shinya Aoki proved that his first win over Akira Kikuchi wasn't an accident. The 167-pound Shooto Champion successfully retained his title with a split decision victory over the Killer Bee fighter in a highly anticipated rematch. Split decision? I thought Aoki won the first two rounds convincingly and the third was relatively even. Regardless, Aoki was victorious and further impressed fans with his grappling prowess. I can't wait to see Shinya when the Pride Lightweight Grand Prix kicks off in May.

Hisae Falters
One of my favorite female MMA fighters, Hisae Watanabe, lost a decision to Korea's Su Hi Ham at DEEP 28th Impact in a non-title bout. The DEEP Women's Champion was unable to get past Ham's technically superior striking. Ham took the fight to Watanabe and it was hard to watch Hisae block all of those shots with her face. Ham landed straight punches at will and was able to withstand Hisae's punching power. Coming in as a big underdog, Su Hi Ham was very impressive in her MMA debut.

K-1 Hero's American Debut
Back in December, FEG President Sadaharu Tanikawa stated in an interview that K-1 Hero's would make its U.S. debut in 2007. In a recent article with Nikkansports, Tanikawa said the first American show would be held on May 19th in Las Vegas. K-1 is planning to co-headline the event with former WWE star Brock Lesnar and UFC pioneer Royce Gracie. If K-1 can improve its matchmaking, it could potentially make an impact in the U.S. One thing is for certain, K-1 has more money than Pride.