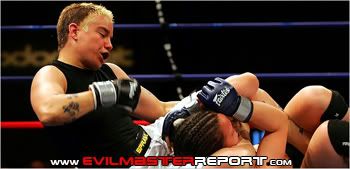 It's hard to ignore the talent of female fighters. With companies like BodogFIGHT focusing high profile matches, women's MMA is becoming more visible. And with a fighter like Amanda Buckner articulate enough to be a spokeswoman for her sport outside the ring and a skill set to be a champion inside the ring, the vision and future seem bright for women's MMA. Here is what one of the best female fighters in the world today had to say about BodogFIGHT, Gina Carano, and why the UFC hasn't had a women's bout yet.

ADCC: Amanda, your fight against Julie Kedzie in the BodogFIGHT organization from St. Petersburg, Russia was recently shown on the ION Network. Talk about that fight and your experience in Russia? AMANDA: Our experience in Russia was great, it's amazing to visit places so different from where you live. The filming of the show was easier for me this time around because I knew what to expect and was prepared. I was getting a little antsy by the time the fights rolled around because I spent most of my time in the hotel. We usually try and spend a lot of time exploring when we travel but the pollution in the air, car exhaust and cigarette smoke, was so bad that I would feel sick when we came back from walking around, even if we had only been out an hour or so. I felt great for the fight. I didn't really come into this fight with a specific game plan but I ended up in good position for a takedown early in the fight and once it was on the ground I tried to stay really aggressive and saw the opening for the choke after landing a solid punch.

ADCC: What was it like watching yourself fight on television? AMANDA: I think it's a lot more interesting and exciting for people that know me than it is for me. I just felt like I was watching tape of one of my fights. The only part that is strange is not knowing how they are going to edit the footage they took.

ADCC: Your fight was broadcasted with three other women bouts. One involved your next opponent, Hitomi Akano on the next BodogFIGHT pay-per-view. What is your assessment of her fight with Tammy Chan and did you see anything in that fight you can exploit? AMANDA: I thought Tama Chan was winning that fight and seemed to get a bit tired. To be honest, I've seen Akano look better in some of her other fights. I know she is a tough fighter with very high level judo and slick submissions. Through watching a few of her fights I definitely feel like I know the ways in which she can beat me and I know what I need to do well to win that fight.

ADCC: Rosi Sexton also fought on the St. Petersburg card as well and impressed many with a armbar victory over a very good BJJ player in Carina Damm. Both being in Bodog, you could possibly meet up with her in the future. What do you think about that? AMANDA: Until I was on my way back from St. Petersburg, I was under the impression that their fight was going to happen on the pay-per-view. Then I found out my opponent would be Akano. I had wanted to compete against Rosi for awhile because I knew she was tough so it was a bit disappointing in that sense but when it comes down to it I don't care who I fight. Rosi is also competing in the 125 pound weight class now so we'd have to fight at a catch weight of 130 or something like that. Maybe that's a fight Bodog will want at some point, who knows.

ADCC: I have to ask you about what you thought of Showtime's presentation of the Gina Carano vs. Julie Kedzie fight and do you think Carano is ready to face someone of your or Tara LaRosa's experience? AMANDA: I thought it was great that they had a women's fight on that show. The only thing they did that I thought was complete "bs" was making the fight three, three minute rounds. Every other fight was the usual three, five minute rounds so they either did it because they were women or because they were showing favor to Carano as a striker, either one is crap. Julie and Gina both fought hard and looked good. I think Gina would be a tough fight for anyone at this point. She's strong, athletic, has a wealth of experience in Thai Boxing, and is connected with people who can make things happen for her with big fights, sponsorships, training stuff, etc. Do I think Tara would beat her right now? Yes. Do I think I would beat her right now? Yes.

ADCC: Speaking of LaRosa, who do you want to have a rematch with more, her or Laura D'Auguste? AMANDA: If I had to pick between the two I would choose Laura. I really respect Tara as a fighter and she and I had a great battle that I will never forget. I think any time we fought it would be the same. My second fight with Laura was the one that really changed me as a fighter, I'm drastically different now than I was back then. So I definitely have that frustration of feeling like I wasn't fighting to my potential against Laura and would like the chance to see what would happen now. Unfortunately, I'd be surprised to see it happen. Laura rarely seems to leave New Jersey to fight and I don't see myself heading back down the coast to fight in Reality Fighting or Ring of Combat any time soon. Not that there is anything wrong with those shows but Bodog is just on an entirely different level. I'm all about moving the women's side of this sport forward right now and these high level women's fights need to take place on a stage where people will actually see them. But like I said I think Laura's fought outside of Jersey one time so I'm not holding my breath.

ADCC: Besides the pay-per-view bout, you're also expected to compete in this year's ADCC's 2007 tournament. What do you like better, grappling or MMA and who are looking forward to competing against in the tournament? AMANDA: I would have to say that MMA is my priority and if I was forced to do only one, I would fight. I love grappling but fighting is what really fires me up. There isn't really any one person I'm looking foreword to competing against, they're all so good that every match is a challenge and it's the challenge that I'm really after.

ADCC: After that it seems like you will be defending your Smack Girl title against Yoko Takahasi. Two questions, is it hard for you to focus with two future opponents lined up at the same time and how does the Japanese women differ from the Americans? AMANDA: It's not hard for me to focus because all I do is look at what is right in front of me. I also have the events prioritized in my mind which helps. Bodog is my first priority followed by ADCC and Smackgirl. If the order of these events was different I may not be doing them all. So far the Japanese women that I've fought have all had high level Judo as their main strength. This fight with Yoko will be interesting because her strength is her striking and she 's bigger than me which is the downfall of having an open weight title. This will probably be my last Smackgirl fight until they switch over to full MMA rules.

ADCC: BodogFIGHT and EliteXC are both on board with women's MMA. What is taking the UFC so long and why don't you think it hasn't happened yet? AMANDA: Well it seems that Dana White has pretty clearly stated that he has no interest in women fighters being in his organization. Women's MMA is clearly at the level where there are fights that should be in the UFC, but if he's not willing to do it based solely on gender than the future for women in the UFC looks bleak. I think what will make it happen is the business side of it becoming so enticing that it outweighs his personal feelings about women's fighting. Women's fighting is gaining more and more respect and popularity so it's only a matter of time.

ADCC: Thanks again for your time Amanda and good luck in your upcoming competitions. Do you have anything to say to your fans or sponsors? AMANDA: Thanks for taking the time for the interview. I always have to thank my coach and husband Jay Jack, he's an amazing teacher and a tremendous support. I also have to thank my family and all of our students at the Academy of MMA. I'd like to thank the following sponsors for their support: Sprawl, Lightforce Greens, Hell on Earth, Afflicted Clothing, and Freeport Chiropractic.