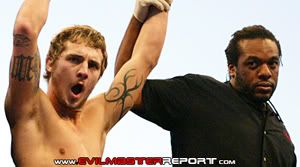 By Steve Sievert

Mixed martial arts looks pretty cool on TV, but behind the scenes, it looks a lot like work - especially for young, up-and-coming fighters struggling to walk around with more than beer money in their pocket.

Case in point, Eddie Wineland.

By day, a guy getting his hands dirty as a laborer for a steel contractor. By night, a mixed martial artist.

Wineland is one of a handful of MMA fighters who can call himself a champion. He owns the bantamweight belt in World Extreme Cagefighting and will make his first title defense Saturday in Las Vegas against Chase Beebe. However, even as a champion in the sport, nothing is coming easy to Wineland.

The 22-year-old, who fights out of the working-class town of Portage, Ind., is paying his dues, scrapping to get by and swinging leather in the cage in hopes of a big payday - some day.

"I like to call myself a full-time fighter; but I also carry a full-time job. I was working 56 hours a week, but my job was kind enough to cut me down to 40 hours. I work from eight in the morning to 4:30 in the afternoon. From there, I go directly to lift, run - do my little workout before I go and start training. Then, I go and train from two to four hours. I'm very lucky if I get six hours of sleep. It's tough work, but honestly, I think it's the hours that get to me more than the work itself, because I'm not giving my body enough time to rest."

The glamorous life it's not, but Wineland says he's in it for the long haul. With the WEC putting more emphasis on the lighter weight classes, Wineland has an opportunity to be showcased as a titleholder. He's one of the fighters getting "above the fold" run for this weekend's WEC show.

But come Monday, it's back to work hauling steel.