By Keith Mills

Dallas, TX -- Sun Production Group's Art of War, the company's first MMA show, takes place this Friday, March 9th at the American Airlines Arena in Dallas, Texas . UFC and Pride vet Guy Mezger serves as matchmaker, Bruce Buffer is the announcer, and the show is reportedly to be shown on HDNet television. As of this writing the card is:

Pedro Rizzo vs. Justin Eliers
Carlo Prater vs. Anthony Lapsley
Alex Andrade vs. Klas Akesson
Jason Maxwell vs. Yuki Inoue
Damien Stelly vs. Mike Sheppard
Eric Schambari vs. Christian Smith
Anthony Njokuani vs. Kenneth Rosfort
Justin Wren vs. Justin Howard
Sonny Neilson vs. Armondo Valadez
Brian Russell vs. Tom East

The main event features two UFC vets on the comeback trail as Pedro Rizzo fights Justin Eilers for the newly-formed IFA Heavyweight title. Rizzo's counter-punching style has made for some lackluster fights in the past but he is said to be taking offense much more seriously, and Eilers' swinging for the fences style is unlikely to draw Rizzo into a war of attrition. The fight is an ideal match-up for both fighters and likely to live up to the "war" part of the event title.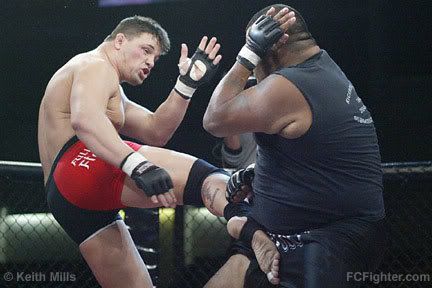 Eilers (left) kicking Gary Marshall

The other fight getting a big push is the return of Carlo Prater. Prater has solid standup from his time under Thugjitsu's Yves Edwards and went toe to toe with Crafton Wallace in the World Combat League, a kickboxing event. Prater is mainly known for his ground game which comes from his training in Brazil. He has wins over Carlos Condit, Thomas Schulte, and Pat Healy but losses to Derrick Noble and Keith Wisniewski. A measure of what insiders think of him is he was supposed to be Eddie Alvarez's first title defense for Alvarez's MFC belt, while both Noble and Wisniewski got their UFC debuts immediately after beating Carlo. After the loss to Noble one year ago Carlo returned to and fell out of sight in Brazil. Now he makes his return against Anthony Lapsley, a KOTC vet undefeated as a pro.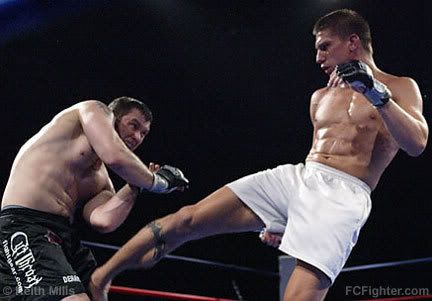 Prater (Right) kicking Derrick Noble

Another fighter making his return to MMA is Alex Andrade, a long-time Lion's Den fighter who hung it up back in 2002 to concentrate on his family. Now this UFC and Pride vet returns to action, facing Klas Akesson. Both Prater and Andrade have opponents one might think would be "tune-up fight" opponents but upon closer examination both these returning standouts could be viewed as having the odds against them.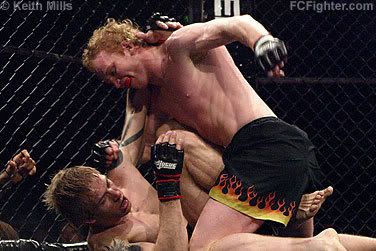 Rosfort pounding on Christian Dellevag

Surprisingly not much emphasis is currently being given to Jason Maxwell's fight against Yuki Inoue. Maxwell defeated former UFC Champion Jens Pulver in HOOKnSHOOT but had a rough '04 and '05 seasons fighting in ZST. Now coming off four straight wins this fight against Shooto vet Inoue is going to be a turning point for both fighters.



Maxwell finishing Jens Pulver

One would think this show would hold a lot of " Dallas vs. regional fighters" to control payroll and bring in the fans but surprisingly the card is turning out to be much closer to " Texas vs. the World". According to Mezger this is the first international card in TX history as he reveals "we have guys from England, Sweden, Denmark, Russia, Japan, and Brazil." Shooto vet Inoue from Japan, Cage Warriors vet Smith from England, three European Vale Tudo vets … this card is actually turning out to be the first stop on this year's European scouting trip continuing through the end of April.

Overall this is a solid looking card with international appeal and HDNet distribution, a lofty goal for a first-time promoter despite Mezger's role. Look for a full report from Full Contact Fighter in the near future.